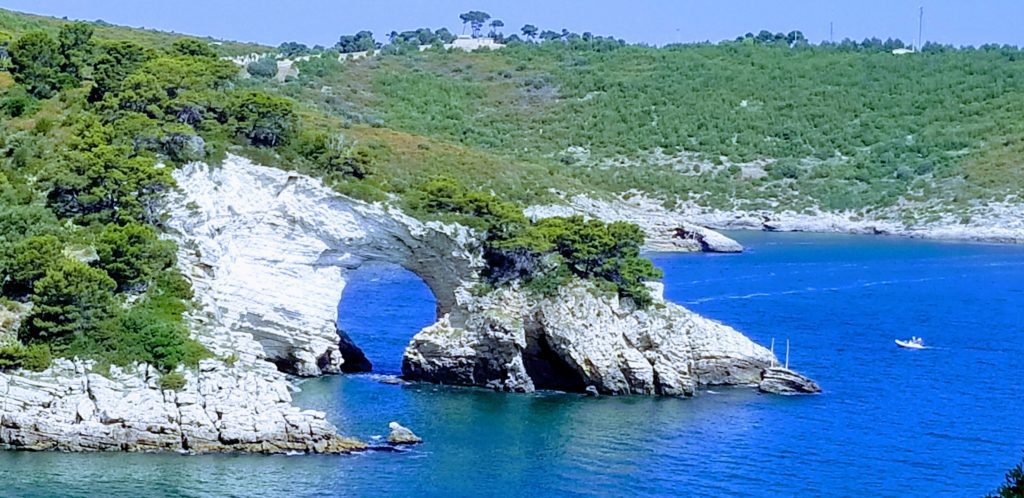 Leaving the Amalfi Coast was hard enough, but driving through the outskirts of Foggia we felt like we were in a different land.  It is customary to see scantily clad ladies (mostly very good looking young ladies) sitting on a chair underneath a bridge.  Not the welcome mat that we were hoping for as we arrived in Apulia.  We decided to miss Foggia and continue east to the beautiful coast of Apulia.
Monte Sant' Angelo

The ancient town of Monte Sant'Angelo is perched high on a mountain top overlooking the "tail" of Italy's east coast.  It has been one of the most important European pilgrimage sites for centuries.  The famous Sanctuary of San Michele is a UNESCO heritage site and the Norman Castle provides fabulous views.
We stayed in the Palace Hotel San Michele  which was $50/night (including breakfast – our hotels.com trick of pre buying their gift cards and getting the 10th night free).  The hotel was like stepping back in time to the 1920s.  The patio in our room was one of the largest we have ever seen with views of the castle town as well as the sea.
Vieste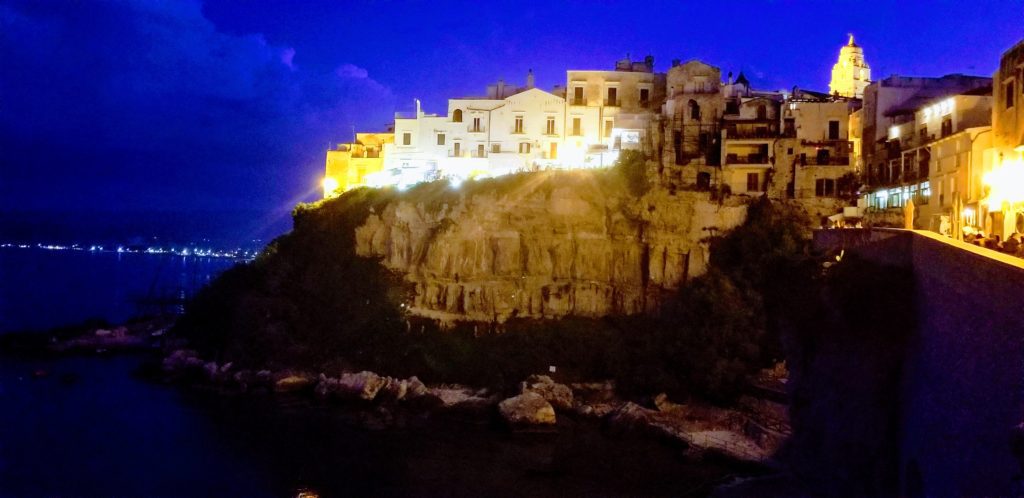 The Vieste Coast is dubbed the eastern "Amalfi Coast" and I can understand why.  There are 2 beautiful ways to get there. One is through the Gargano National Park– which is definitely worth a stay, and the other is on the coast from Manfredonia.  We went to Vieste through the park and continued through Apulia along the breathtaking coast.
Vieste truly deserves an extended stay – between the lovely medieval town and the beaches there is truly much to do and see.
Cala Dei Morti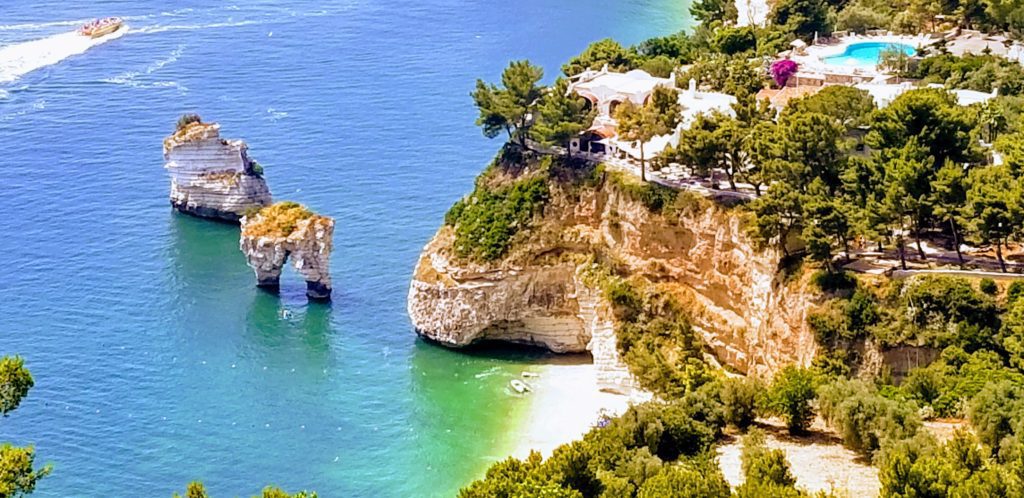 This is a small beach town on the way from Vieste to Manfredonia.  Cala Dei Morti (and other small beach towns along the way) are beautiful resort stays or can be a great place to grab a lunch.
Trani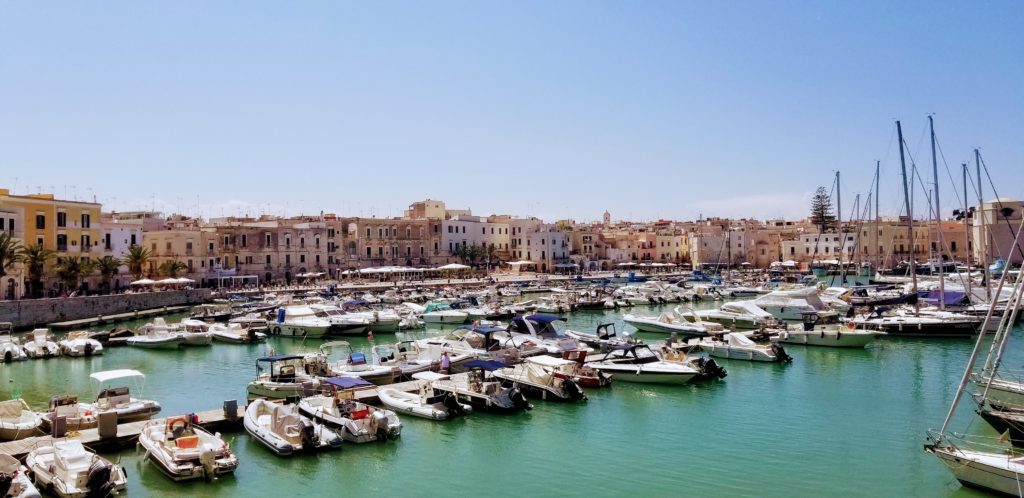 Trani is a historic fishing port with a beautiful bay, park (where we saw 3 different wedding parties posing for pictures – it truly is a lovely spot for picture taking) and many cobblestone streets to wonder.
Bari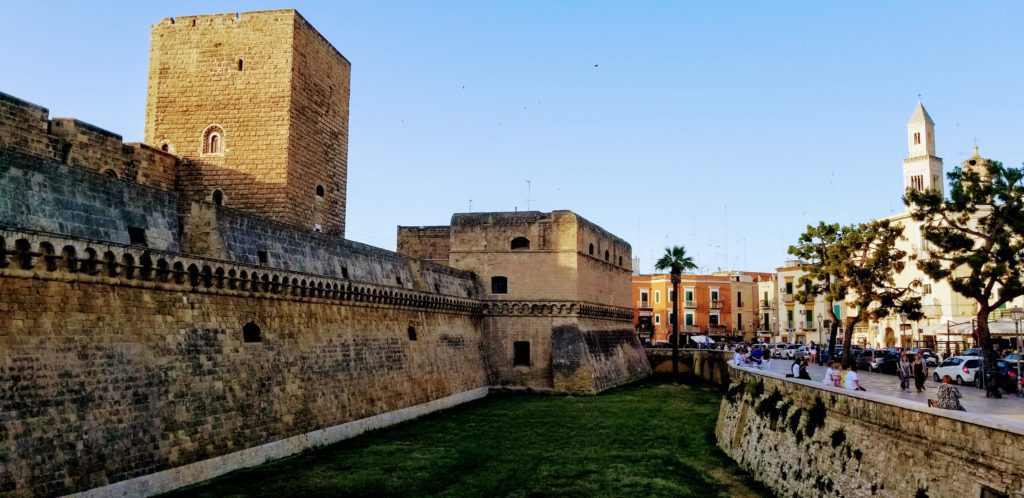 Bari is a large port city with much to offer.  Surrounded by narrow streets, the 11th-century Basilica di San Nicola, a key pilgrimage site, has many visitors and beautiful frescoes.  Bari's iconic fortress, the Norman Swabian Castle is well preserved and worth the walk through.  When we were there, the Russian Icon exhibition was ongoing in the castle and was quite the delight to see.
The cobblestone streets have marvelous restaurants, cafe's and shops.  While we were having dinner in one of the restaurants, the power went out and we had to wait until it went back on to get our meals – just part of being in a medieval city.  Although patience is not my strong suit, I have had to adapt to life in these laid back towns.
Monopoli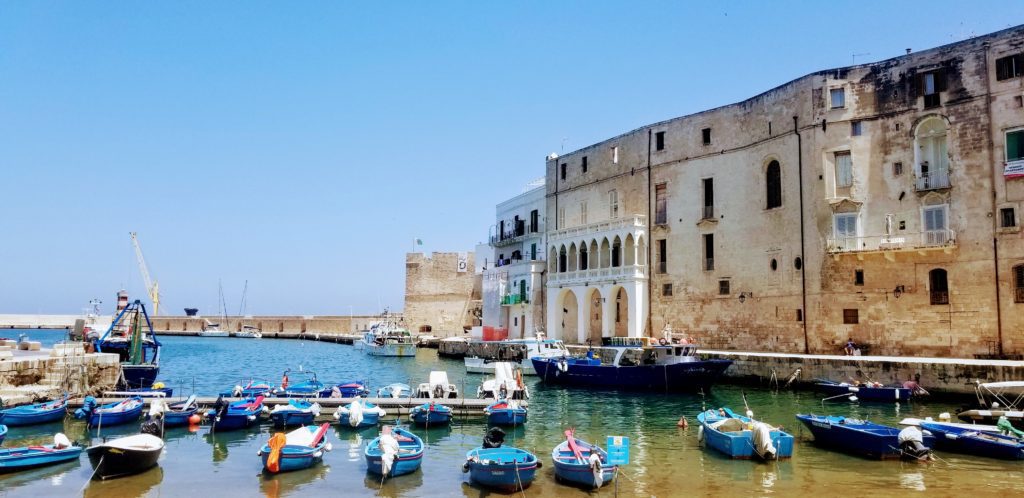 We went to visit Monopoli because it was listed as one of the biggest expat towns in Italy and we are so glad that we did.  Much slower and more laid back than Bari, this quiet seaside town has much to offer.  Strolling the sleepy harbor we saw fishermen darning their nets and fish darting by.  Very understandable why so many North Americans have chosen this place as their retirement home.
Alberobello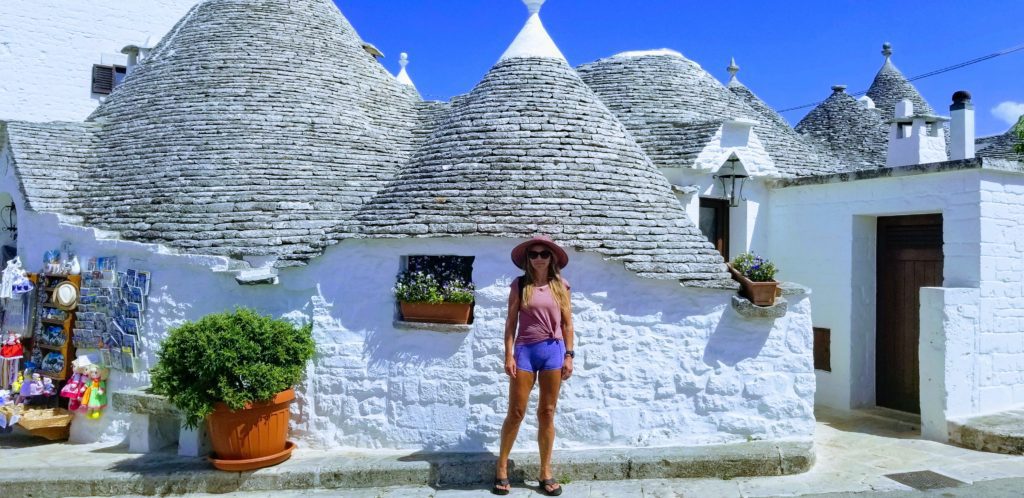 The UNESCO heritage site, Alberobello is trulli an interesting place.  The trulli homes are conically shaped white dwellings which abound the city.  With its narrow pedestrian streets, little shops selling local produce and a few nice cafes and trattorie offering al fresco dining, Alberobello is a fun place to grab a lunch and spend an afternoon.
Lecce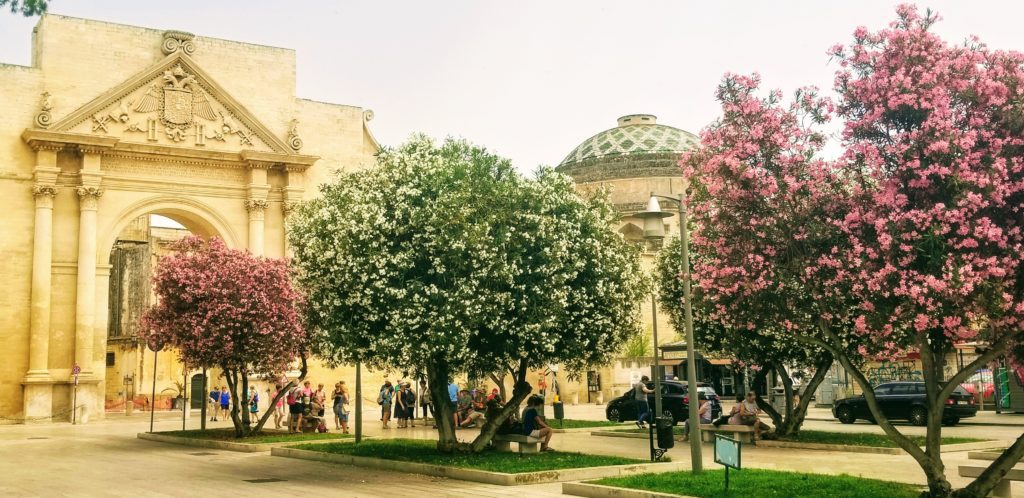 Located on a plain at the foot of the Salento Plateau is Lecce – the "Florence of the South" – one of the most interesting cities in the region for its architecture, typical of the 17th Century.  Lecce's historic town is built of the local whitewashed sandstone and offers many piazzas to stroll and museums and cathedrals to visit.
Brindisi

For many Brindisi is the gate to the east as it is one of Italy's biggest port towns.  Badly bombed in WWII, Brindisi has undergone some major face lifts.  The centre is home to wide, palm-tree lined boulevards, a revamped seafront promenade with restaurants and bars, a great many winding streets and some fine Baroque churches.
We found the 11th and 12th century  Tempio di San Giovanni al Sepolcro with it's fragmented frescoes to be a true gem of the city.  The entry is free (which is highly unusual) and the informative guide only asks that you sign their guest book.
Taranto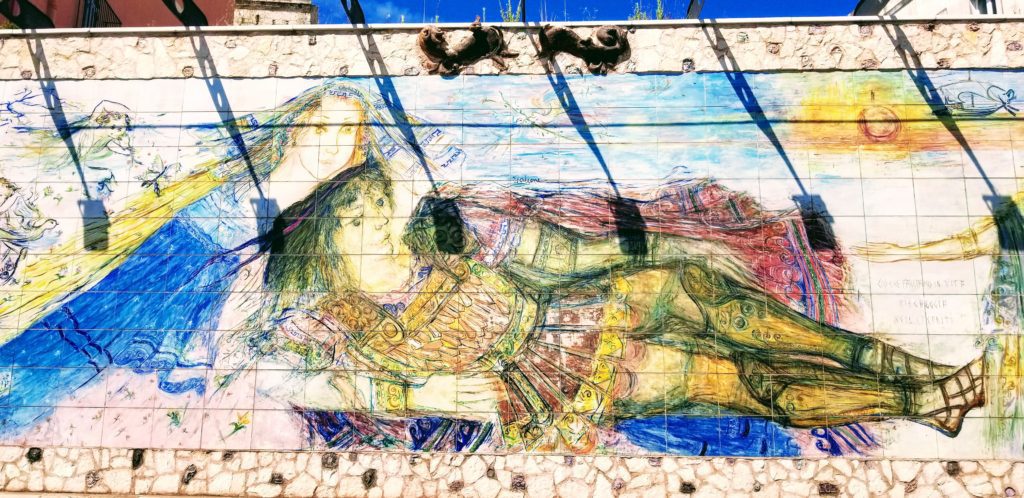 Unfortunately our last stop in Apulia was one that we will never forget.  Lured by the promise of great archaeological sights we decided to stop in this port town and parked our car in the middle of the afternoon in a highly populated parking spot of a busy piazza (just a block from the police station).
We walked along the water towards the old town, got a map from the tourist office and continued on.  To our dismay the old town which truly should be one of Italy's center pieces was covered in human and animal feces.  We have seen some dirty cities in our time but Taranto truly is one of the worst – especially for Italy.  Later it was explained to us that the mafia have taken a strong hold on this poor town and have brought it to it's knees.  Disgusted we decided to turn back towards the car.  Since the piazza where we parked had a very generous nasoni (clean, cold drinking water fountain with water from the nearby mountains) we decided to refill our water bottles (so that we didnt need to purify tap water in the evening).    While Rob was refilling, I decided to pop the trunk open to grab some additional bottles.  It took me a second to comprehend what I was looking at – the trunk was eerily empty.  I had to think – did we drop the bags at the hotel?  No – we were on our way to Matera and had not yet reached the destination.  Once I realized that we had been robbed of everything that we had I quickly started yelling for Rob.
Once we sold the house and donated all of our possessions we went through a lot of emotions which culminated in catharsis.  At this time of our journey we were embracing our minimalist ways….but this was all we had left…just 2 small roller bags and 2 backpacks…nothing else.  The computers and cameras and all the other possessions are replaceable but Fozzie's hair which I carried in a small satchel in my backpack cannot and I am still quite upset that even that was taken from us.
Thankfully, prior to leaving North America Rob purchased a small portable safe in which we had all of our credit cards and passports which he had locked to the bottom of the car seat (and hid underneath).  The robbers either did not have bolt cutters or did not see it which truly saved us a lot of agony – imagine calling in to cancel and replace so many credit cards and 2 sets of passports from 2 different countries?!
Since we did not have any house insurance (being homeless), car insurance does not cover theft.  The good news is that some credit cards have a theft protection policy on items that had been purchased 90 days and sometimes 120 days prior to a theft or loss.  We were very grateful to have purchased many items on our AMEX cards and our Chase Visa cards.  To be able to make the claim I did need a police report which for me was an investment of 2.5 hours.  My Italian certainly improved after such a length of time with an Italian constable whom did not speak a word of English.
Many lessons learned here – 1 – is to always be prepared to be robbed – 2-that most things are replaceable – 3- thank goodness for office 365 and backing up to the cloud
[contact-form][contact-field label="Name" type="name" required="true" /][contact-field label="Email" type="email" required="true" /][contact-field label="Website" type="url" /][contact-field label="Message" type="textarea" /][/contact-form]
Please follow and like us: