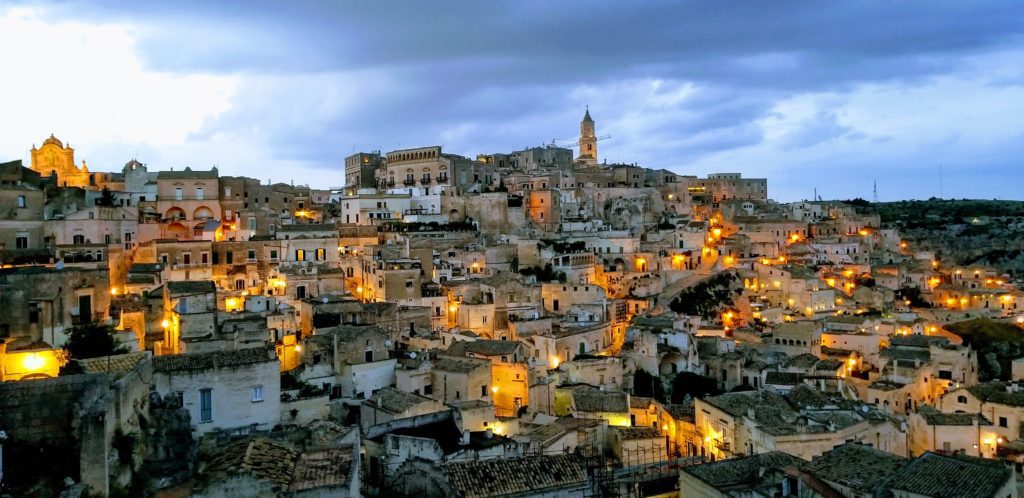 We arrived in Matera quite late – due to the robbery in Taranto we were quite exhausted and demoralized.  The robbers even took our toothbrushes, so we scrambled before the stores closed to try to find the basics.  Our amazing host Roberta at our Airbnb in Matera was seriously amazing.  Not only did she wait to greet us at 10 pm at night, but she also made some very sound recommendations for stores that ultimately replaced our computers, bags, telephone plugs, underwear and the like.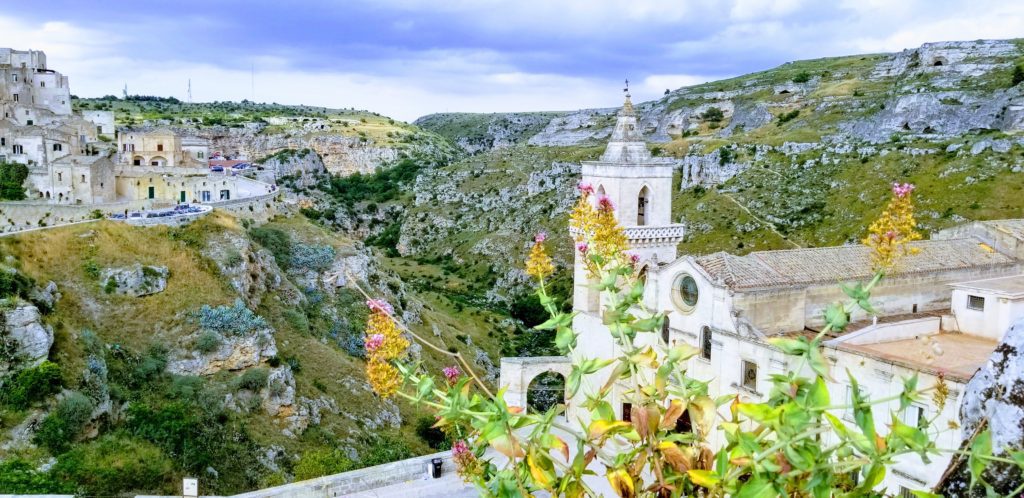 Matera is magical – that is the best way to describe this city.  From our Airbnb we walked a block and were mesmerized by the view before us.  The ancient neighborhoods known as Sassi Matera are a series of grottoes carved out of limestone, teetering on the edge of a ravine. It's one of the most unique and spectacular places we've visited in Italy or anywhere in the world.
However Matera was not always so magical.  Up to the 1950's it was known as Italy's great shame and disgrace:  Families trying to survive in utter poverty crammed together in the dank caves of the Sassi together with their animals.  Many died from disease and starvation.   The extent of the squalid conditions in the Sassi only came to international attention when writer Carlo Levi was exiled by Benito Mussolini's fascist regime to a town close to Matera in 1935. In his book, Christ Stopped at Eboli, published in 1945, Levi described the horror he witnessed – the paltry furniture, children either naked or in rags, bodies ravaged by disease – and concluded: "I have never seen in all my life such a picture of poverty."  The government poured much money into the Sassi in the 1950s – moving it's inhabitants into new homes in the greater Matera.  Since then the caves have been resurrected into prized accommodations, restaurants and museums.

We just could not get enough of this place and will certainly be back and very soon.
[contact-form][contact-field label="Name" type="name" required="true" /][contact-field label="Email" type="email" required="true" /][contact-field label="Website" type="url" /][contact-field label="Message" type="textarea" /][/contact-form]
Please follow and like us: