Last updated on December 20th, 2022 at 12:08 am
Milos is yet another stunning island in the Cyclades of the Greek Islands.  Yet it truly stands out.  Why?  Well because to many it is the most exotic island in the Aegean Sea.   Milos is painted with extraordinary colors and a stunning landscape throughout.   Volcanic rocks paint the beaches red, pink and orange.  There are so many amazing things to see and do!  Read on to find out the hidden gems.
At first we stayed near the port town of Adamas – a vibrant beach town filled with restaurants, cafe's and little boutique shops.  We rented an ATV to get around the island and were turned onto a great adventure website which shows all the hikes and single track trails of Milos – a true delight for 2 adventure junkies like us!
We decided to hike up to the the tallest point of Milos – one that promised to show us not only the sea from both sides of the island, but also some nearby ones.  Given that any car, ATV or motorcycle/scooter rental only allows you to travel to certain parts of the island, we parked our ATV at the end of the paved road below the P12 point (on the www.miloterranean.gr  map) and took the fire road to the singletrack leading up to the top of Prophitis Ilias. 
The views were spectacular- and so was the wind!  Mighty strong at the top where we found a lovely refuge open to all travelers, stocked with beds, food and fuel for the cooker.  There was also a tiny church with a visitor log book for all to sign.
Our favorite beach on the northern part of the island was Firopotamos.  The stunning view that opened before us, as we made the turn towards this cove truly made our jaws drop.  The water is warm, transparent and a color of blue that is hard to describe.  Besides the beach, there are a few small huts, a little church, some ruins and a makeshift bar that sells anything from beer to blender drinks while it's techno music plays loudly for all willing or not to hear.
Slightly west of Firopotamos is the town of Plaka, which is the capital of Milos.  This ancient village is filled with history, beauty and amazing vistas.  At the highest point of Plaka is it's castle called Kastro.  We climbed to the top for a stunning sunset view and then returned to the village for one of the best (and cheapest) meals we have had in a long time.  The labyrinth of streets within this town are so charming, we were sad that we were not spending (at least) one night.
Pollonia is a posh town on the northeast corner of the island.  There are many boutique hotels, restaurants and cute shops.  It is worth a visit if only for an evening.
One of my absolutely favorite spots on Milos is the Kleftiko caves.  To get there is a journey, as the "road" to get there requires either a 4X4 or a time commitment on an ATV – neither are allowed with a rental, so you either have to take your chances from an insurance perspective or one needs to do the long run/hike/bike in.  Once the 4X4 road ends, there is still a 30-40 minute hike into the cove….but boy is it ever worth it!
We had the cove all to ourselves, except for a few sailboats that anchored about 50 meters away from us to take a look at the caves.  The water was bathtub warm and there are sandy as well as rocky outcrops to sunbathe on.   This was one of my favorite spots in all of Greece.
There are a few other beaches on Milos that are worth mention.  Mytakas pictured above, as well as Paliochori Beach pictured below which is located on the southeastern part of the island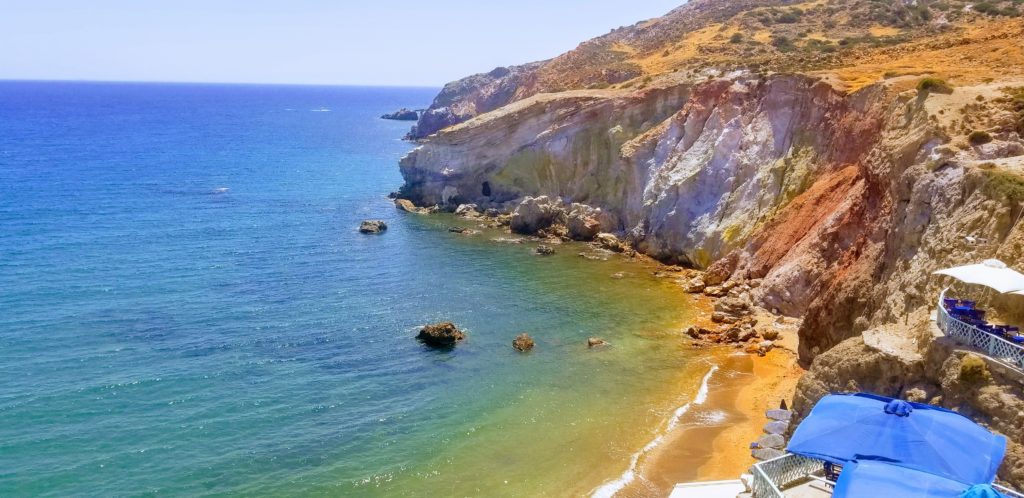 Many travel to Milos to visit the famous moonscape rocks of Sarakiniko – it truly is a marvel (pictured below). Yet still, my heart belongs to the waters of Firopotamos with it's turquoise transparent water to which I hope to return time and time again.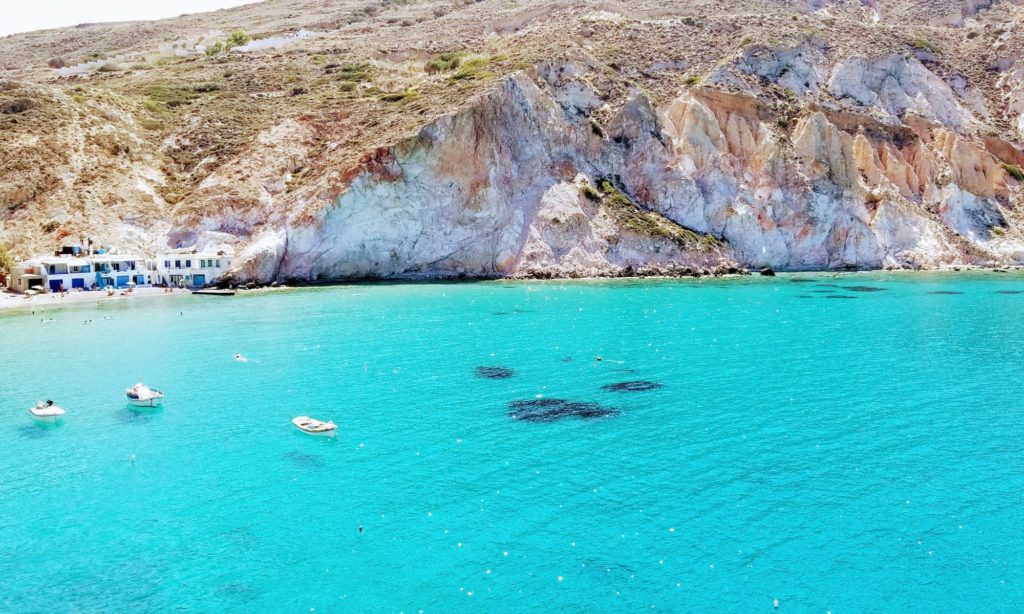 Milos was one of our favorite Greek Islands.  There are so many things to see and do here! Between the magical coves with their crystal clear water and the hiking in the mountains, we truly had a hard time leaving this gem of an island.
Have you been to Milos?  Or maybe to Naxos or Paros and Antiparos or perhaps Crete?  We would love to hear from you which one of the islands you enjoyed the most.
Please follow and like us: