As our bus, from Jordan arrived at the Damascus Gate we were so excited to walk through the Old City.  With all of our exuberance we quickly realized that it would be best to drop our backpacks prior to venturing into the tight corners of the crowded cobble stoned Old Jerusalem.  Check in Jerusalem was our chosen accommodation for our next 4 nights.  It was a great stay as it is centrally located near many  cafe's and shops and only a few minutes walk to the Old City.
The Old City is home to many of Jerusalem's most famous  points of interest, including the Western Wall, the Church of the Holy Sepulchre, and the Temple Mount.   It was touching to see how the 3 major faiths seemed to be respected and equally honored in this ancient city – perhaps we were lucky on the days that we were there – but the old city seemed to exude peace and harmony. 
Originally built by King David in 1004 B.C., the walled Old City comprises four distinct areas:  the Jewish Quarter (or the Cardo), the Muslim Quarter, the Christian Quarter, and the Armenian Quarter.   Each quarter emanates a unique ambiance, with religious sites, shops, and food offerings reflecting its specific culture. 
With the Old City's winding alleyways, cobblestone paths and ancient stone piazzas intertwining these different cultures and faiths creates for a very interesting and eclectic environment.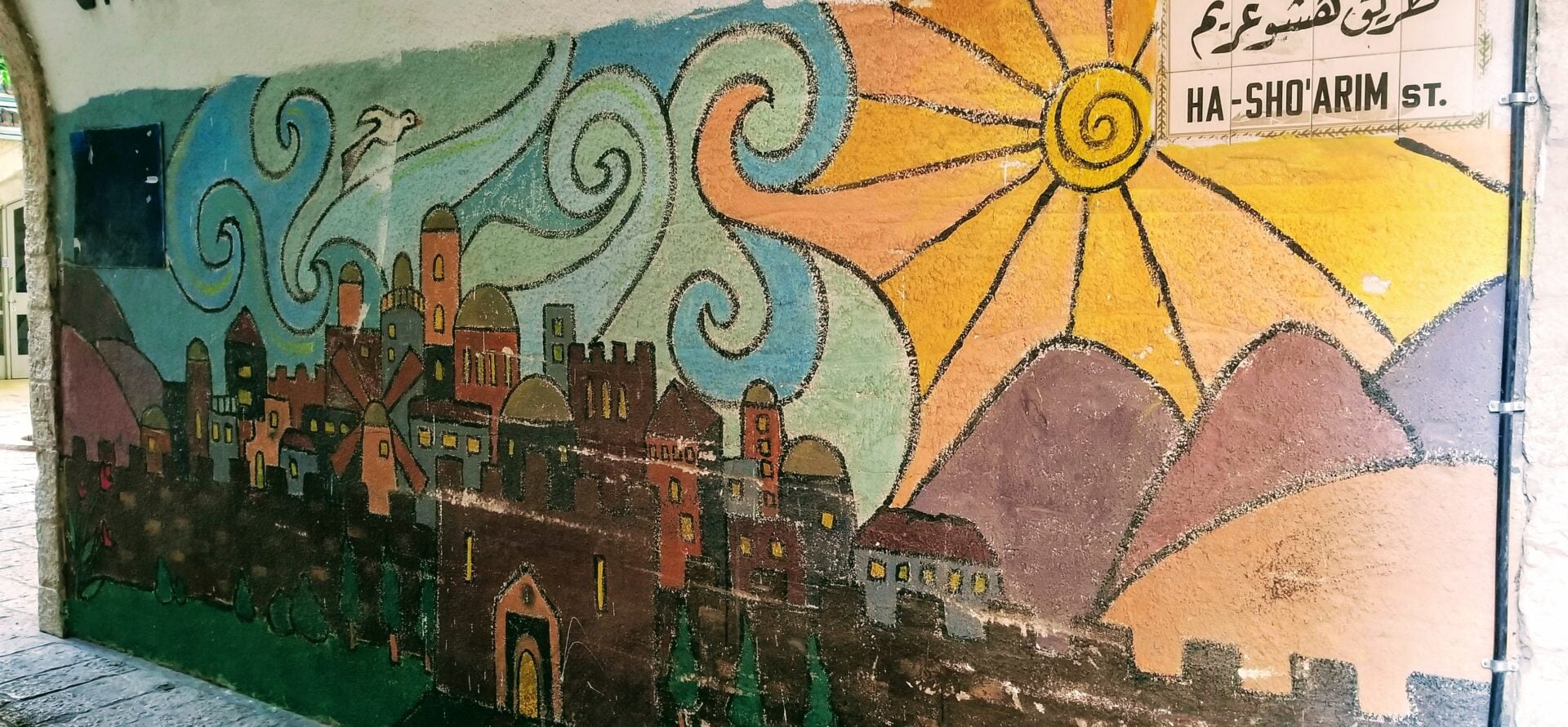 Throughout our time  in Old Jerusalem, we often found ourselves lost (both geographically and metaphorically) – it is a maze in so many ways.  To orient yourself, there are many free walking tours that last anywhere from 2 to 2.5 hours that are a good introduction to the mysterious Old City.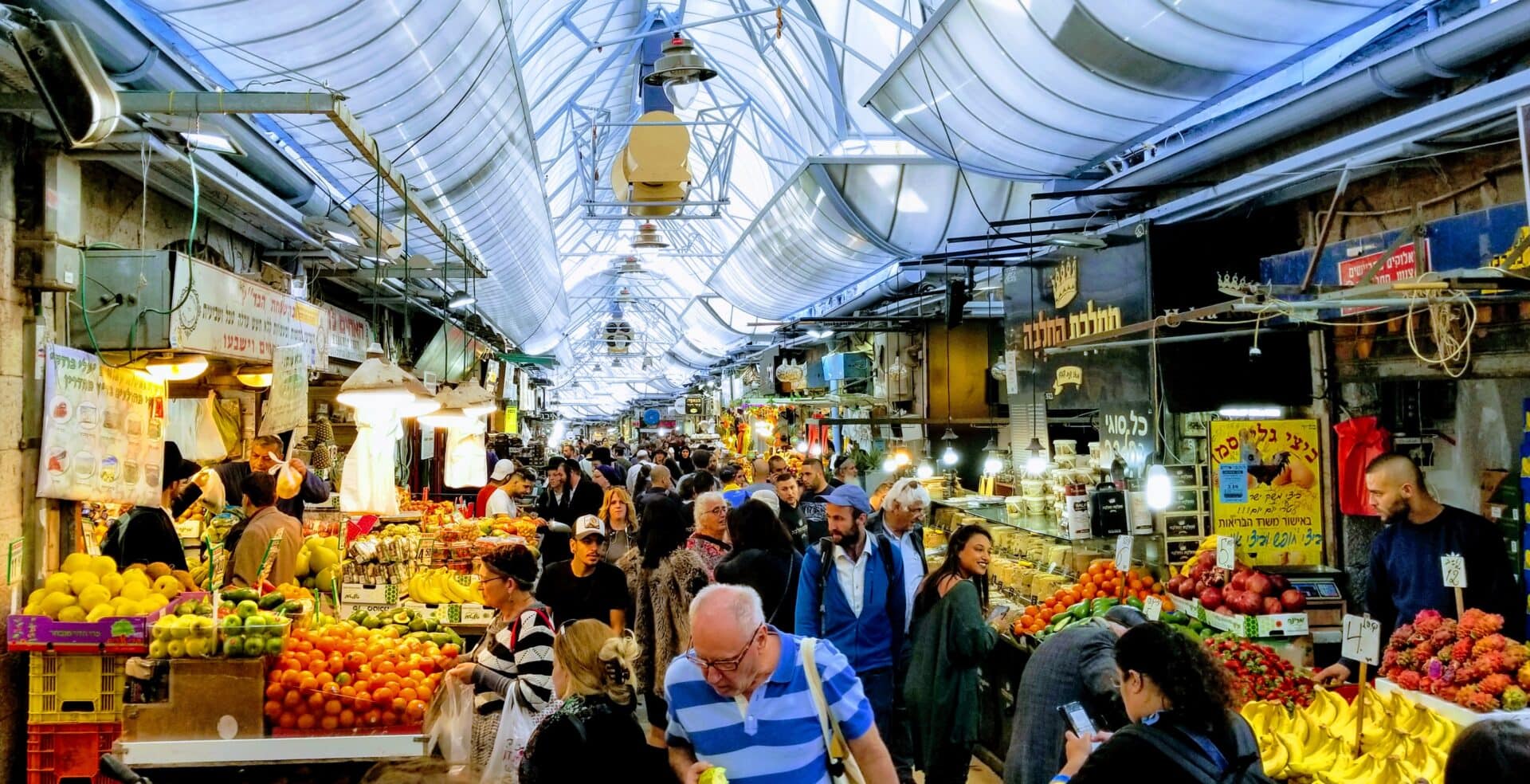 One of my favorite places in Jerusalem is the Yehuda Market.  The vibrant colors of fruits and vegetables, the scents of beautify layered and presented spices, the amazing tastes of hummus and olives!  This market will delight the senses and inspire culinary escapades during every visit. 
I must say that having a nice kitchen in our hotel room and being so close to the Yehuda Market we did end up with some delicious vegan meals – something that I had been craving for throughout the Middle East.
Speaking to many of our Sabra friends and other visitors to Israel, we quickly realized that a visit to  Yad Vashem – Israel's largest Holocaust memorial would be an absolute must. 
Set on the slopes of the Mount of Remembrance, this museum's nine chilling galleries of interactive historical displays present the Holocaust using a range of multimedia including photographs, films, documents, letters, works of art, and personal items found in the camps and ghettos. 
Although visiting Yad Vashem was very difficult emotionally,  it was easy to get to via the tram line.  Transportation within all of Israel is inexpensive and fantastic!  Unfortunately, that is only true for Sunday through Friday afternoon- especially in Jerusalem where most everything shuts down Friday afternoon and remains shut until Sunday morning. 
This includes all public transport, bars, grocery stores, cafes, restaurants, etc.,   It was interesting to see the busiest street in Jerusalem – Ben Yehuda Street to be empty of trams, buses and cars during Friday night.  This "stillness" continued through Saturday, which is important to remember if you need to travel on Saturday.
Even though we spent 4 full days in Jerusalem, we left wanting more.  There is so much to see and experience here and the city has such a great vibe that we vowed to return and soon!
Visiting this ancient magical town throughout my life has always left such a strong mark on me.  I was very excited to finally share this sacred place with Rob! 
With everything that is happening here in 2023, I sure hope that the country can hold on to it's democracy and freedoms.
When visiting Jerusalem, Israel we hope that you also get a chance to explore Palestine and all that, that state and people have to offer – which is a lot!
Please follow and like us: