Al Ula is a magical and mystical city in the northwest of Saudi Arabia.  It truly is the gem of the country and is a must on any itinerary.  Yes, even a budget one!
We will show you how to experience Al Ula on a budget with 6 free things to do!  Yes, free!  And honestly, there is only 1-2 activities that we would recommend paying for.  The city is renowned for its unique history and culture, with ruins from various civilizations spanning over two millennia.
From the prehistoric Nabatean city of Hegra to the archaeological site of Madain Saleh, Al Ula offers visitors a unique insight into the cultural significance of the area and it's interesting valley filled with stunning nature and animals.
Getting to Al Ula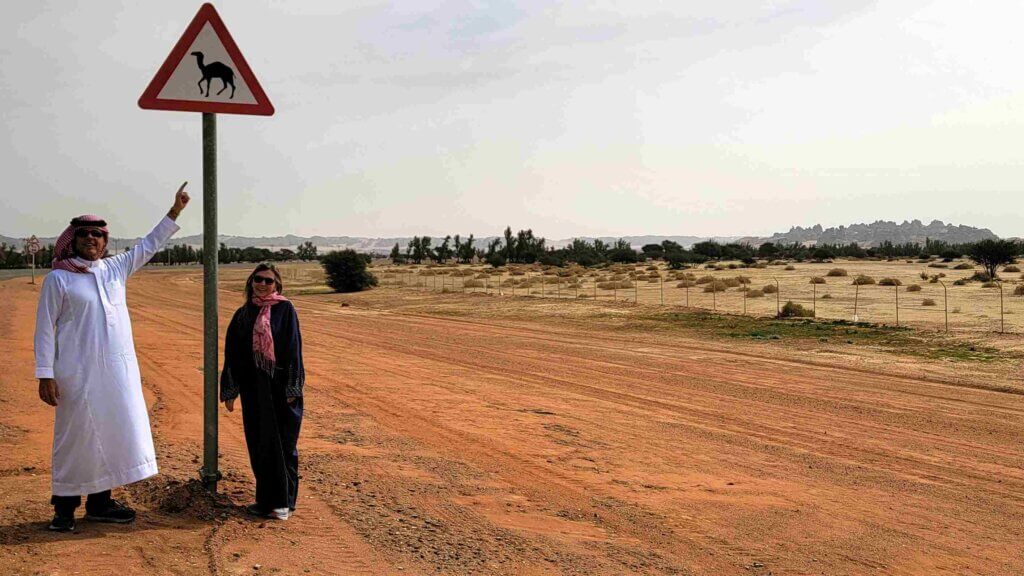 There are a couple of ways to get to Al Ula.  You can either rent a car in one of the bigger cities and drive – almost 11 hours from Riyadh or 7.5 hours from Jeddah or you can fly.  We opted to fly as we heard that driving in Saudi Arabia is pretty dangerous.  And we didn't want to drive that far.
We flew on Flynas from Riyadh.  The cost of the 2 hour flight was $168 per person.
Gas is insanely cheap in Saudi Arabia – it cost us 17 Euros to fill up our SUV.  Horrible for the environment but incredible for the pocket book.  In our defense, there were 4 of us in the vehicle.  And there is no public transportation in the area.
Keep in mind that in order for most nationalities to enter Saudi Arabia you will need a visa.  You can either get and eVisa online prior to arriving or get the Visa on Arrival.
PRO TIP: We recommend  getting the Visa on Arrival (VOA).  Not only do you save some money (VOA is cheaper than the eVisa) but you also get the obligatory COVID medical insurance as part of the VOA.  Double check here to see if you need a visa and what kind you need to get.
When to Visit Saudi Arabia
The best time to visit Saudi Arabia and this area is between November and March when the weather is cooler and much more tolerable.  The evenings are actually quite cool even in the end of February yet the days are warm.
April through October are very hot and would not be a good time to visit unless you enjoy the scorching sun and blistering heat!  In addition, keep in mind the dates of Ramadan when services may be limited.  And of course the very busy time after Ramadan called Eid.
Map of Al Ula
This map was created with Wanderlog, an itinerary planner on iOS and Android
Getting Around Al Ula
The best way to get around Al Ula is by car.  There are NO ride share services from the airport into town, no public transportation and taxis are very limited (we did not see any).
Our friends could not rent a car and their options were very limited.  They were quoted a car and driver for 1,000 Euros for the 3 nights there.
We did pre-order a car through Budget.  However when we got to the front of the line, we were told that they did not have our reservation.  Luckily a woman who spoke both Arabic and English was able to help us out to rent another car through Budget.  The other car rental agency there is Lumi.
Once you are in town, then Uber is available.  However, the distances between locations are pretty far.
PRO TIP:  If you do want to rent a car, try to get to the entry of the airport as soon as possible.  Lines for the car rentals can last 1-2 hours.
Best Free Activities in Al Ula
As I mentioned earlier, Al Ula is not a cheap place.  Yet, there are a number of activities that one can do for free here.  The concierges at the Old Town Visitor Center are a wealth of information and provide many suggestions of things to see and do in the area.  Here are 6 of our favorite free things to do here:
1. Maraya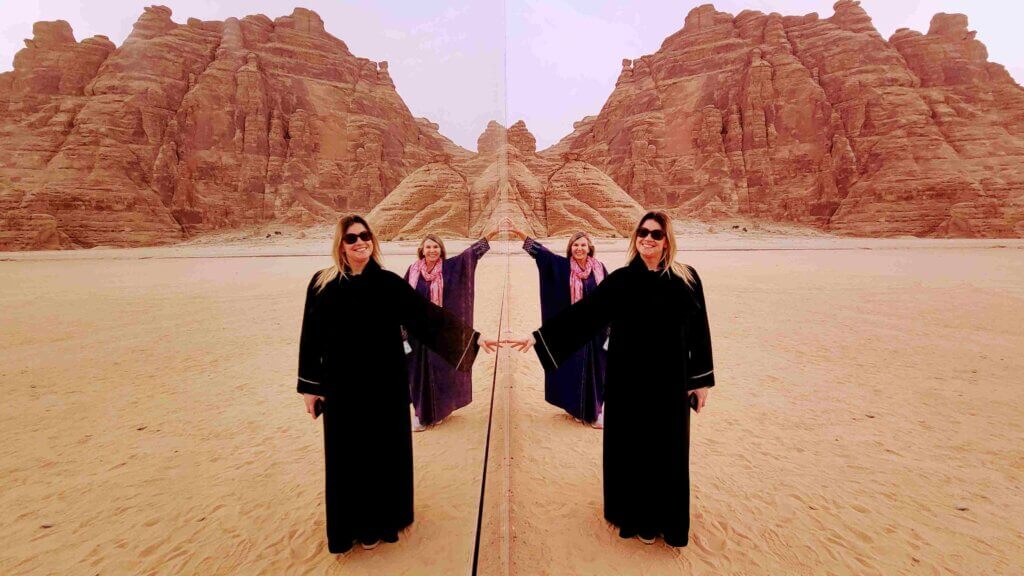 Maraya is a building made up of 9,740 mirrors (the largest mirrored structure in the world).  It is a stunning piece of art that rises from the sand like a mirage, designed to blend into the surrounding landscape of rocks and cliffs.
In Arabic, Maraya means mirror or reflection.  And boy, it is one heck of a reflection!
The best time to visit Maraya is right at sunset when the blend between the mirrors and the surroundings is almost indistinguishable and utterly stunning.
Prior to coming to Maraya order your free tickets on this site.  For us the visit to the building also included a free entrance to the gallery, which featured the Andy Warhol exhibit.   However, because we over indulged outside of the building, we missed our 6 pm free tickets to go into the exhibit.  So don't be late as they don't let you in past the free ticket time!
2. Dadan Heritage Trail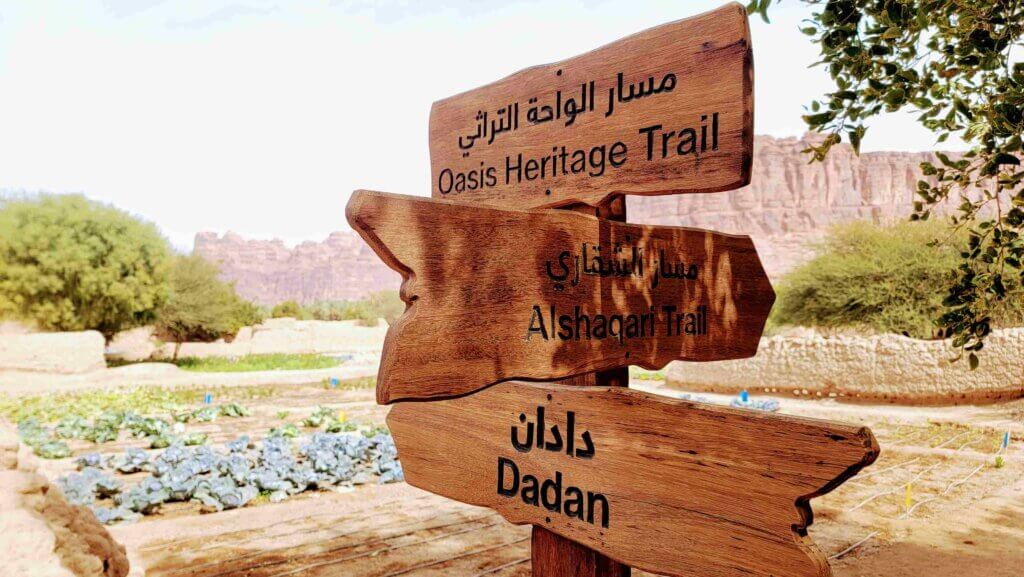 The Dadan Heritage Trail, sometimes called the Oasis Trail is a free and highly recommended activity in Al Ula.  It is a flat 3 km path with many entry and exit points.  You will be walking past historic mudbrick homes, lush gardens, swings, stalls selling freshly squeezed juice and other such fun things to see and photograph.  It is truly an oasis trail!
The northern part of this trail is located just north east of the Old Town.  We chose to park at the Dadan Visitor Center (the free parking is across the street).
From the parking lot, walk south parallel to the paved road (there is a trail from the parking lot).  Make your first right from the parking lot trail to another dirt road.  Walk about 250 meters and take your second left onto the wide path.  You are on the Dadan Heritage Trail!
As you walk, there will be signs for many other trails which we highly recommend you explore – but on your way back!
3. Elephant Rock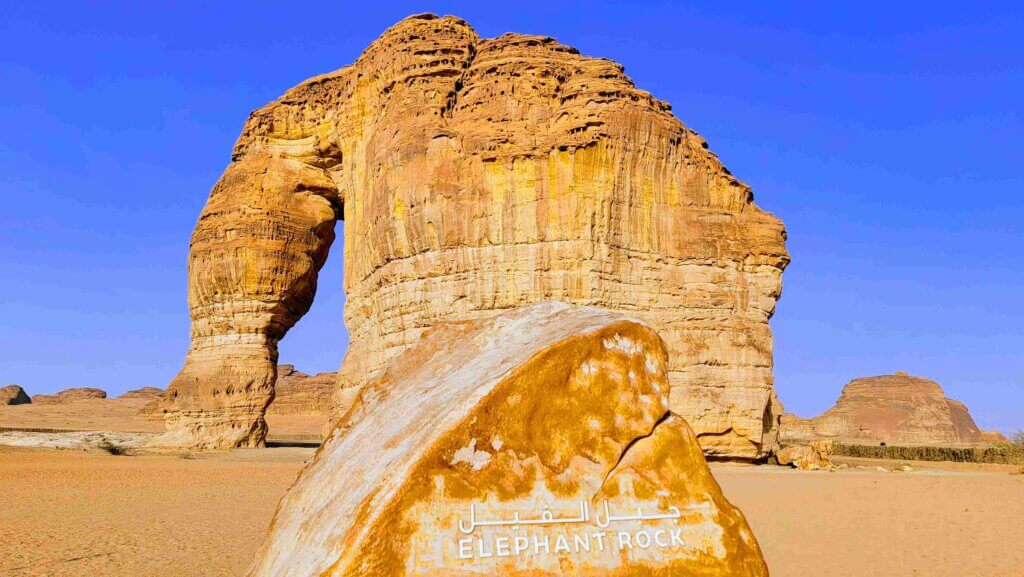 Elephant Rock is an astounding and unusual rock formation which resembles a giant elephant.  The rock is 52 meters high and soars out of the sand into the Arabian sky and the larger natural mountain and valley landscape.
We visited during the day to see the elephant basking in the sunlight.  And we returned at night to experience the rock formation all lit up with the backdrop of the starry night sky.
The entry and parking are free to all day and night.  There is a cafe and  a restaurant.  However you are not obliged to purchase anything.  No outside food or drink is allowed including water.
4. Old Town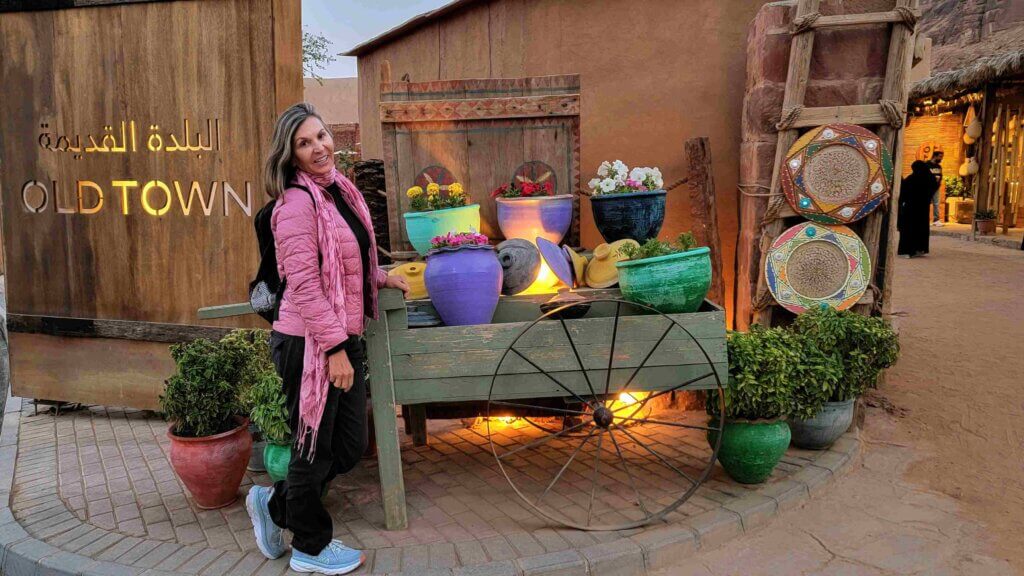 Old Town Al Ula is a charming and historically important area  which dates back to the 10th century.  The town has a main street with many shops, restaurants and cafes.  The mud brick buildings have been restored to look like they did in the past.
It is a fun place to visit, shop, eat or just grab a coffee.  There are plenty of places that sell delicious traditional arabic coffee.  However if you are missing a Starbucks or Dunkin' Donuts one, there are those as well.
You can park at the northern Old Town parking lot for free.  Golf cart shuttles run between the parking lot and the Old Town every couple of minutes and they are also free of charge.
5. Harrat Viewpoint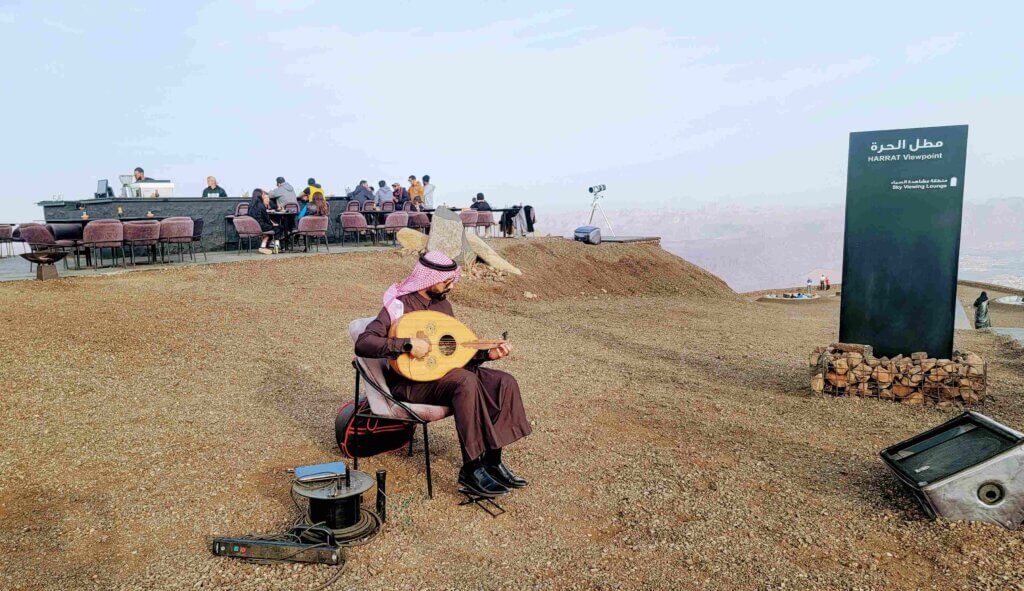 Getting to the Harrat Viewpoint is half the fun!  The road winds higher and higher into the clouds exposing a gorgeous landscape of the nature and valley below.  At the top, the viewpoint is 1,229 meters high and the views are breathtaking.
The parking and entry are free.  There is a restaurant there, however one is not obligated to purchase anything.   In addition, no outside food or drink is permitted at the viewpoint area.
6. Stargazing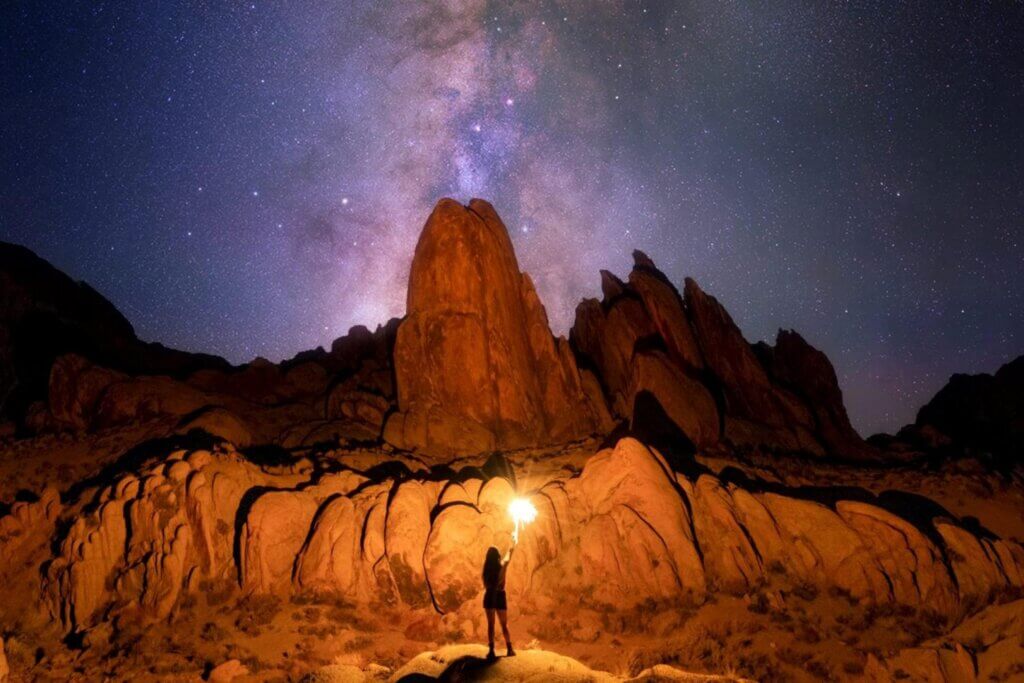 On a clear night the stars in this nature wonderland are incredibly clear and bright.  There are paid tours for stargazing.  However, why not grab a blanket and stop to stare at the sky for free?  The best places in my opinion are in the north.  Perhaps after an evening visit to Elephant Rock or maybe an evening stroll through the Dadan Heritage Trail?
Best Paid Excursions & Some to Avoid
We did 3 paid excursions through the Al Ula Experience site.  One was wonderful, another overpriced and the third we flat out cannot recommend.  All excursions start at the Winter Park Parking Lot.
The communication from the guides is very limited, so I will try to provide as much of the details as possible for you to understand what is happening.
1. Hegra Day Tour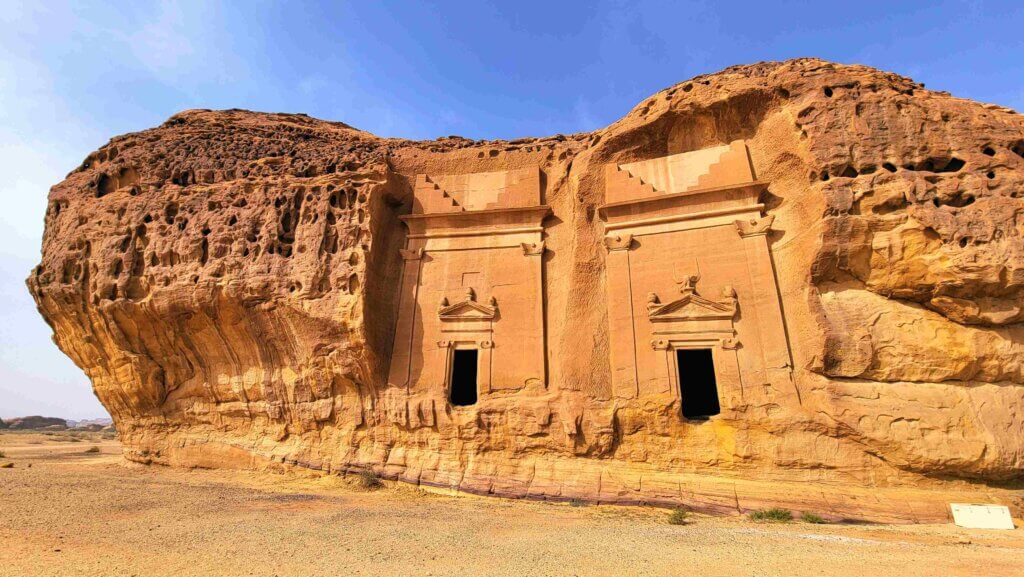 The Hegra Day Tour was an excellent experience.  This is a tour of 5 different areas of the Hegra UNESCO World Heritage Site, and the largest preserved site of the Nabataean civilisation south of Petra.
On this tour you are taken from the Winterpark parking lot by bus to the Hegra visitor center.  There we were offered freshly squeezed juices (pomegranate or orange) and dried fruits.  The center has a small museum and gift shop.
After about 10 minutes at the center we were told to board another bus.  These are hop on hop off type buses which take you between 5 different spots of interest in Hegra.  Don't worry if you miss a bus at one of the stops as another one will come by in about 5-10 minutes.
This experience is well worth the $25 per person (95 SAR) that we paid and we can highly recommend it!  Budget about 3-4 hours.
PRO TIP:  We recommend coming in the afternoon as the sun is better for picture taking.
2. Hegra After Dark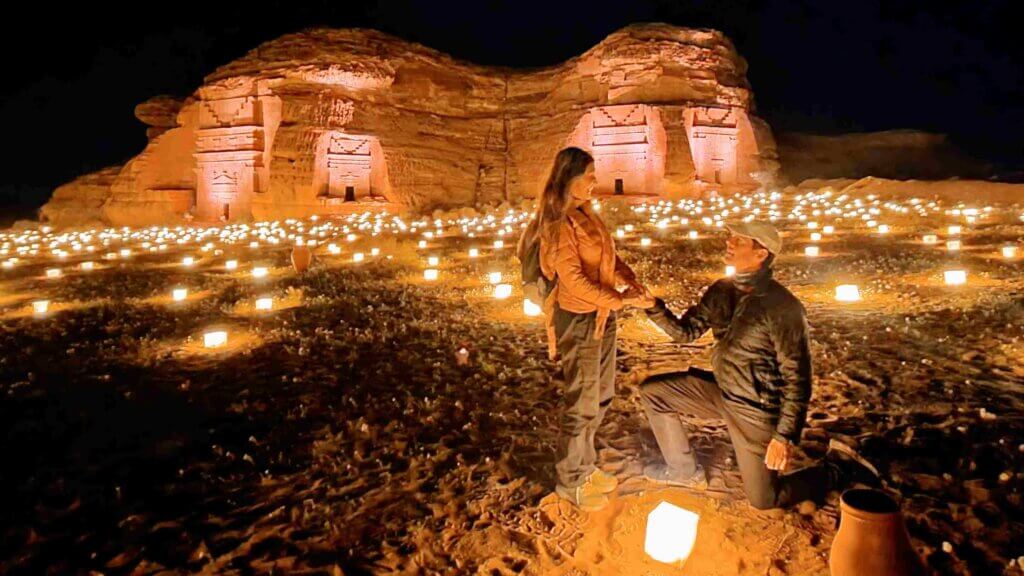 Hegra After Dark visits different areas of Hegra than the day tour – so that is definitely a plus.  There are 3 parts to the "experience".  Part 1 is walking through very dimly lit paths to look at very poorly lit ancient inscriptions called the Rock Art Trail.  Honestly, we could have skipped this.
The second part is to be taken by horse drawn carriage from Part 1 to the main event – Part 3.  Had I read the brochure closely enough and known that there were horses involved I would have passed – but I didn't.  Our carriage was the last to arrive because I did not let the chariot driver whip the horses.
Part 3 is definitely the best aspect of this tour!  Our chariot arrived at a beautiful candle-light display across Hegra's historic tombs.  We were taken to some seats in the sand (in front of the tombs) and offered drinks and snacks.  The tombs where illuminated beautifully!
Then the carriages took us back to the Hegra Visitor Center.  The bus drove us back to the Winter Park parking lot.
I am mixed on this experience.  The last part of it was very beautiful.  The candle lit tombs were very special to look at. However at $40 per person (150 SAR) I don't know if I can fully recommend it.
3.Dadan & Jabal Ikman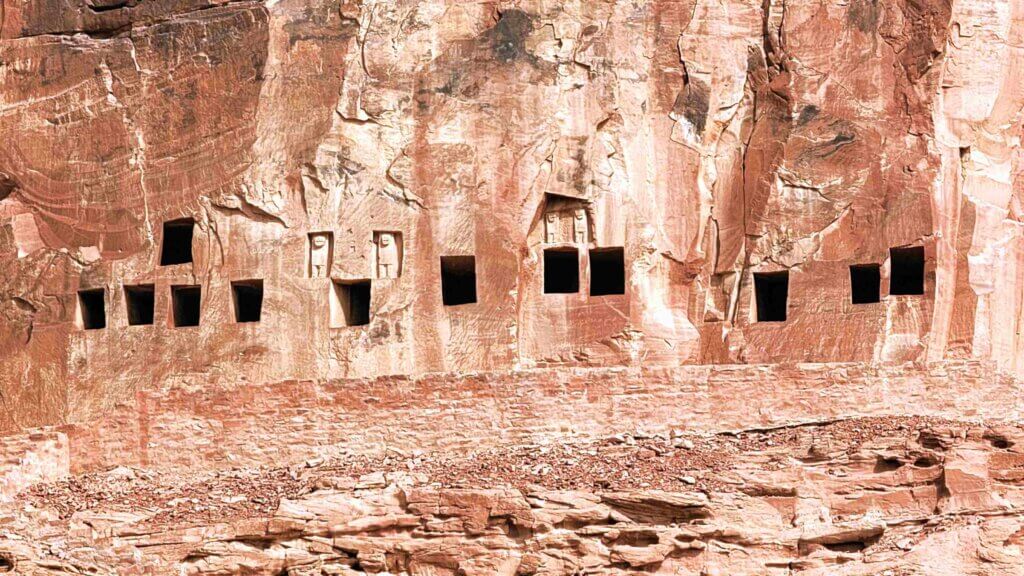 The Dadan and Jabal Ikman experience just did not hit the mark.  All 4 of us agreed that this tour lacked the substance of what we expected.
We were first taken to the back of the Dadan Visitor Center, and shown the interesting holes in the cliffs.  One of them is flanked by 2 intact falcons (most of the falcons in the Al Ula area have been defaced).
Second, we were walked to an area outside where we were shown pictures of archaeological sites that we were not allowed to visit.  It was a sunny hot day, so seeing pictures outside in the heat of the day was strange.
Lastly we were taken to a gallery where we were expected to figure out how to use rock carving tools to carve our own rocks.
The whole event lacked substance and in our opinion was a waste of time and money.  The price for this experience was $25 per person (95 SAR).
Accommodations
Accommodations in Al Ula are either moderate to very expensive.  We stayed at the Queen Hotel for about $110 per night.  It was ok, however we just can't recommend it.  Our friends stayed in an Airbnb which was a bit better.  But again – not a place we can recommend.
There are quite a few higher end hotels which are gorgeous and have great ratings:
Caravan by Habitas Hotel – starting at $350 per night
Banyan Tree – starting at $1,560 per night
Habitas Al Ula – starting at $1,100 per night
Therefore, we want to prepare you for either the quality of accommodations at the lower price point or the high price at the higher end, more luxurious hotels.
Restaurants and Grocery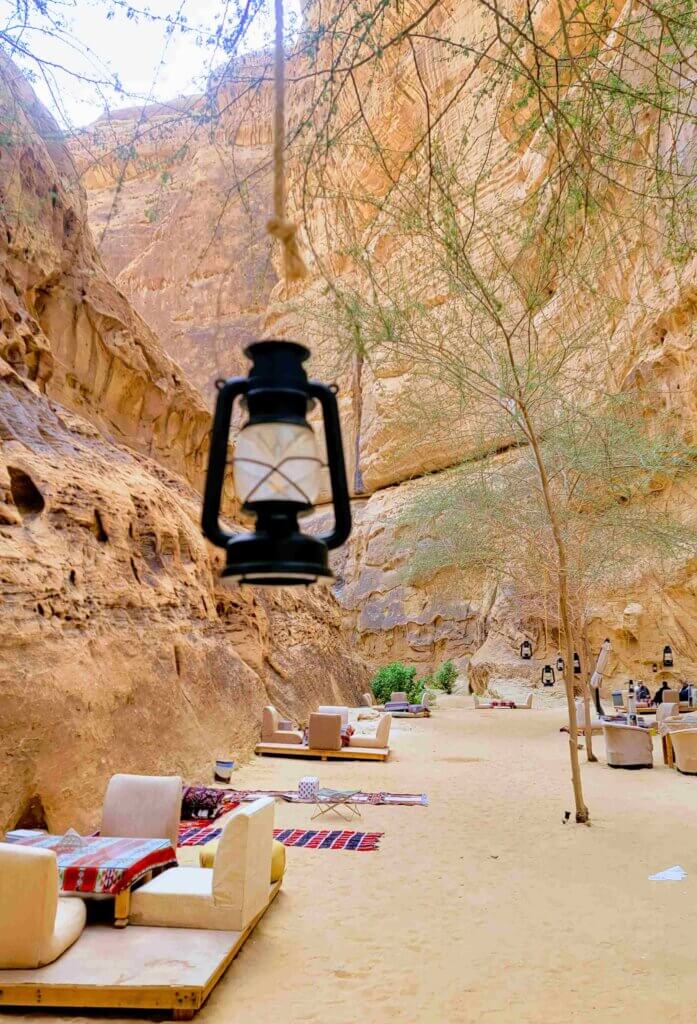 On our map above we have 3 restaurants listed that we quite enjoyed!
Shalal Cafe:A cafe between the rocks. First one must pay a few dollar entrance fee. Then a 5 minute walk through the sand and narrow rocks (think the entrance to Petra) brings you to an open sandy patch where there is a cafe with dining al fresco. It is on the pricier side, but worth the trip to see it! The large Saudi breakfast platter serves 3-4 and is about $30 + the price of coffee.
Shwarma Wrappers: This is a great place to grab a cheap late lunch or dinner in Old Town Al Ula. The Vegan Wrap was delicious and only a few dollars. Rob had the Chicken Shwarma for the same price as mine. It is the yellow container in the food court. Even though they have a low rating, we quite enjoyed it. The place opens at 4 pm.
Sigji:  This indoor restaurant called Sigji was fantasting. It featured traditional middle eastern food.  Four of us ate like kings for about $25. Many great vegan options.
We also found a western grocery that had most of what we were craving as snacks and drinks.
Wrap Up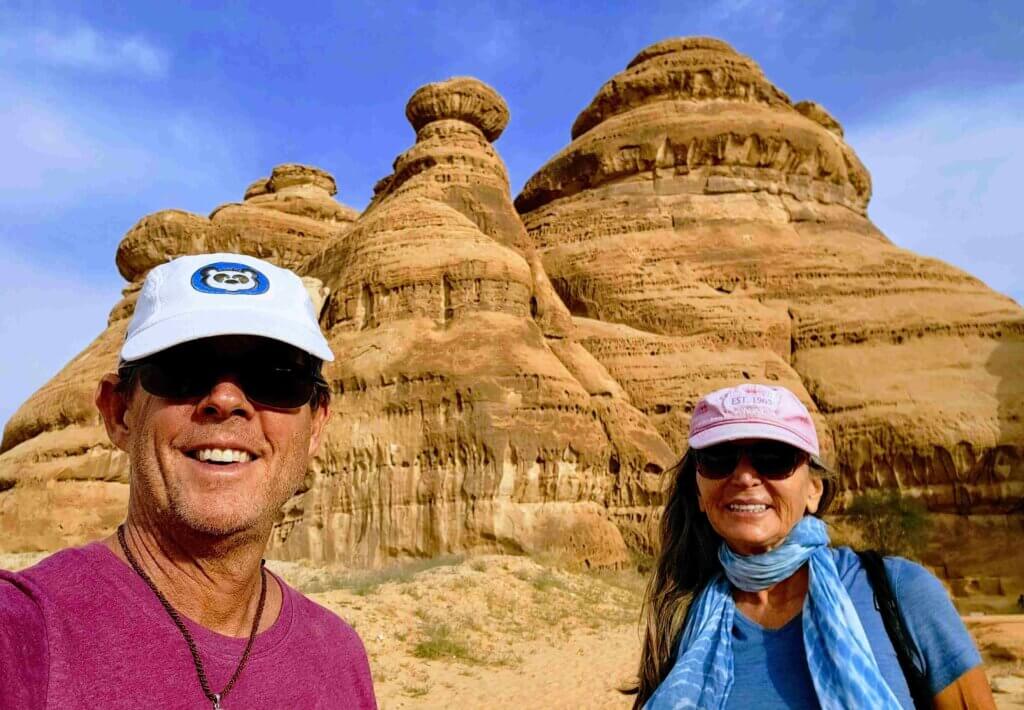 Al Ula, Saudi Arabia is a wonderful destination. Especially if you enjoy ancient history, different cultures and stunning nature.  It really reminded us of a mixture between Wadi Rum and Petra.
Even though it is an expensive place to visit we were able to find so many free things to do here!  Our 3 days in Al Ula were full of events and were quite light on the pocket book.  Have you been here?  What was your impression?  Are you planning a trip here and have questions – fire away! We would love to hear from you!
Please follow and like us: