Last updated on January 4th, 2023 at 08:31 am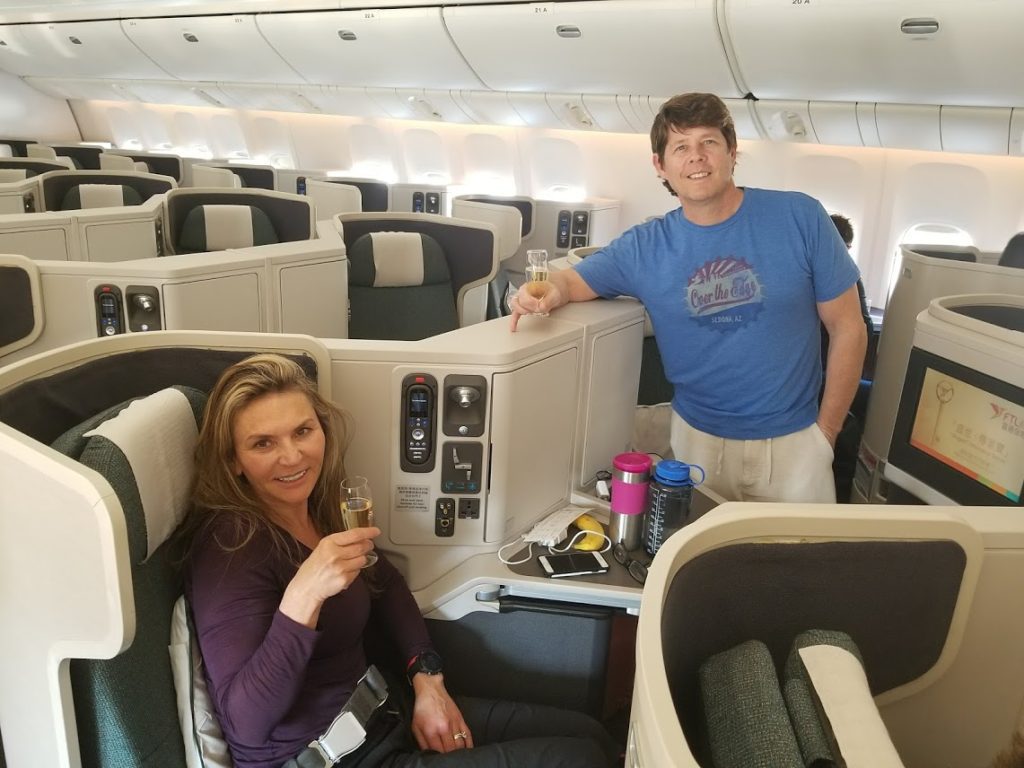 Getting to Hong Kong
The beginning of our first international journey of 2018 started in Hong Kong.   We were a bit apprehensive starting a long journey so soon after the loss of our beloved dog Fozzie, but we needed a break after a month of grieving his loss.
We arrived in Hong Kong on Cathay Pacific business using 50K Alaskan points.  The flight from LAX was almost 16 hours long and business class was quite empty due to it being Chinese New Year.
At first we were wondering why everything was so expensive to book.  However after speaking with the flight attendants we realized our mistake. We totally forgot that our arrival was coinciding the beginning of this huge celebration.
Overall, I must admit that I expected more from Cathay as they are known for their hospitality and service.
We were fed breakfast/lunch upon boarding and then were not fed for the next 13 hours.  Now keep in mind that this long break in service was during pacific daytime and it was hard to go through from 11 am to 2 am without food.  There were snacks that we could have had but unfortunately as a vegetarian I couldn't eat the hamburger or the duck soup.  Thank goodness for fruit and nuts in my bag.   Ok, I know, first world problems…very grateful for what I have.
Getting to our Hotel in Hong Kong
We grabbed an Uber at the airport for about $45 USD and headed to Le Meridien in Cyberport.  As  a platinum SPG member we were certainly taken care of here.  A great sea view room with free breakfast (which was amazing), evening happy hour which included free cocktails, lovely wine, and ample hot and cold snacks (so much so that we used this perk for a few of our dinners).
There was also a free shuttle which ran almost every hour and took hotels guests to the very central Hong Kong station.  In retrospect we should have saved our money on the Uber and taken the fast train from the airport (110 HKD or about $14 USD each) and then taken the free shuttle.  If you are traveling alone that is definitely the way to go!
Hiking in Hong Kong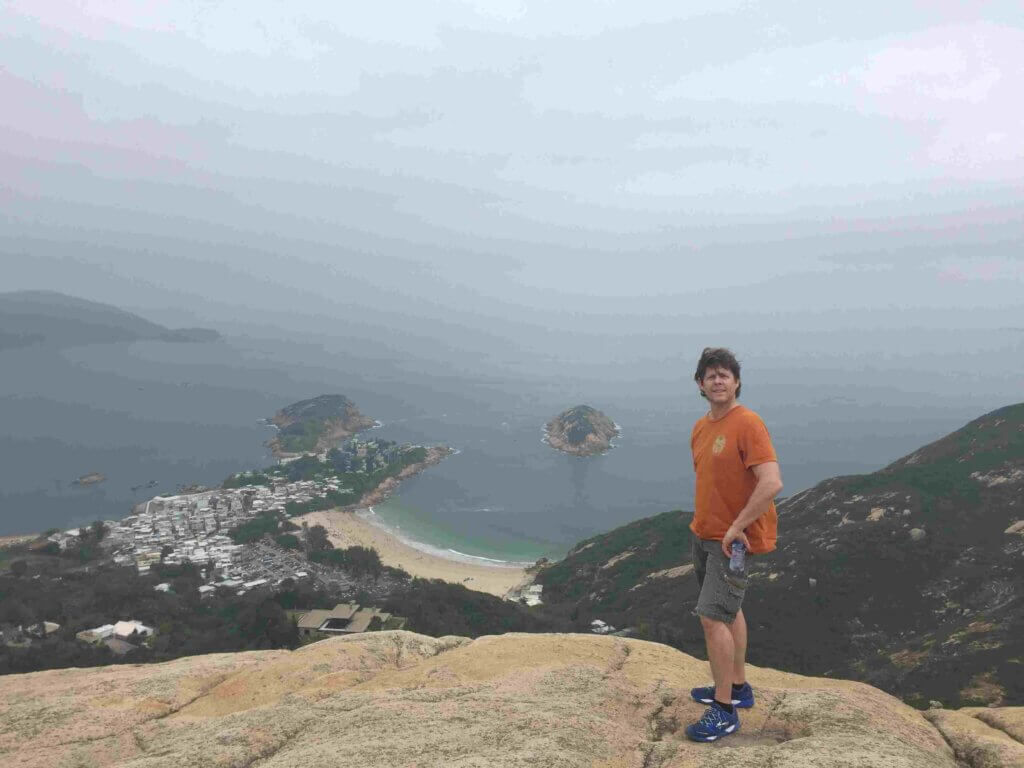 We had a lot of fun hiking the 3.5 km loop Victoria Peak trail.   It takes you high above the city and is very walkable from the hotel.  Overall it is very close from many areas of the city as there are many routes to get up there.   The views from above are certainly worth the 552 meters of elevation gain.
In addition, we hiked the Dragons Back trail.  This is a really easy hike.  It took us up above Hong Kong and showed us amazing vistas of the city.  This is a hike that most folks can do even in the crazy humidity of Hong Kong.  We saw families with small children enjoying this hike.
Wrap Up
Getting to Hong Kong both literally and figuratively was a great way to start our lives as nomads.  We had a lot of time to see the city, hike and reflect on the decision that we made.
In addition, Hong Kong gave us the space and the time to figure out what we are going to do next.  Starting a new life at our age as nomads is a bit of a scary proposition.  Therefore, we are very grateful for this time in Hong Kong to explore both the city and within ourselves.
Have you been to Hong Kong?  What is your favorite part of the city?  We would love to hear from you!
Please follow and like us: