Georgetown, the capital of Penang is the second most populous area in Malaysia after Kuala Lumpur.  It is a melting pot of eastern cultures and is a UNESCO world heritage sight.
There is quite a bit to see on this colorful island.  Although when we visited, the beaches were quite underwhelming and dirty.  However, read on to find out about our time on this island.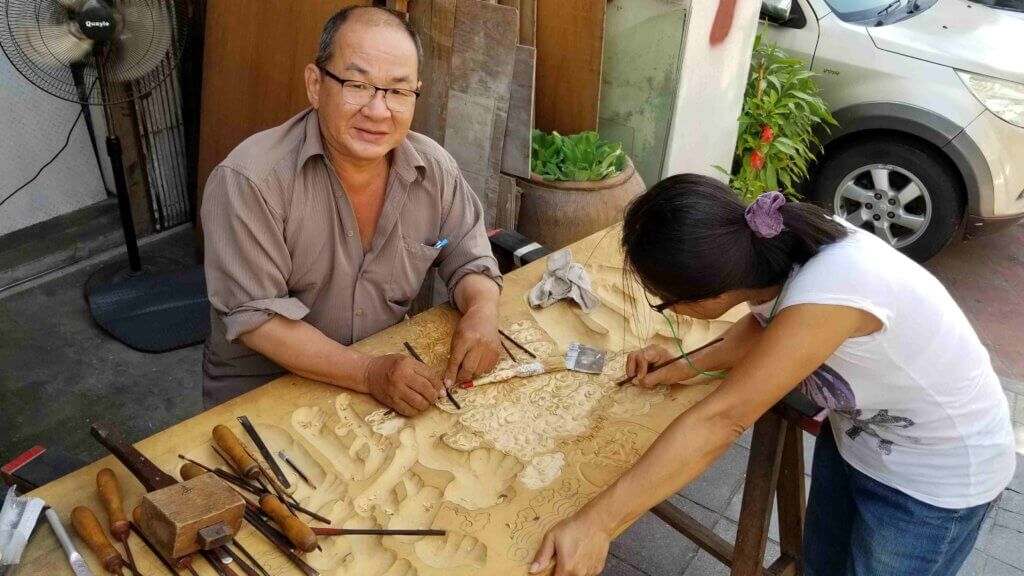 Our flight from Singapore to Penang was slightly delayed but the pilot made up the time in the air and we arrived to hot and sunny Penang on time. 
And our Uber driver ended up being a food and beverage manager of one of the large hotels in Penang and was incredibly helpful.  I usually try to get a vibe from the locals about how they view their government and surroundings. 
Certainly not something that I do in countries where I would be putting the person in jeopardy to state their honest opinion – but in Malaysia I thought it was a safe question. 
Rainey was very open and helpful with information about the island…we arrived at our hotel – the Four Points by Sheraton Penang and thanked him for the great conversation.
What can I say – you get what you pay for, but at $62/night all in (minus 25% paying with our City Prestige card we get our 4th night free) + free breakfast and a room upgrade (Platinum SPG member), we got a lot more than what we paid for in the Four Points by Sheraton Penang. 
We got upgraded to the sea view suite which has a stunning front row view of the endless sea.  The staff are very helpful and welcoming. 
The gym has a gorgeous view of the water as well and the pool is clean and refreshing.  The downside is that the beach is not the best – c'est la vie – there is a free shuttle to some better beaches although we later found out that all beaches in Penang are quite dirty and have many jelly fish.
There are many great hotels to choose from on the island. If you want to be close to great restaurants and the historical Georgetown, then we would recommend one of these three options:
The Prestige Hotel: This hotel is right in the heart of Georgetown and has won the Best Design Hotel of 2022.  For about $100 USD/night it is a nice option.
SAVV Hotel:  This is a nice clean hotel right in the center of Georgetown at a decent price of around $50 USD/night.  
House of Journey: If you are looking for a hostel, then this is one of the best options in Georgetown, especially for solo travelers.  The cost for a bed is around $10 USD/night.
Our first night we walked over to the Strait's Quay and had dinner at Real Food.  Amazing organic, vegetarian/vegan, locally sourced food.  I wish there were more restaurants like this one – thoughtful about where food comes from and how we impact our planet.  
Food and Uber in Penang are very inexpensive and even though we were eating in an upscale mall, our dinner with tip (which is not expected here) came to $20 USD.   
But once we tasted Pinxin food (vegan) in Georgetown Penang we knew we found our favorite restaurant in Penang.  For more variety, with vegetarian and non-vegetarian options there is a good Indian restaurant called Sri Ananda.
My heart goes out to the dogs of Penang.  The culture here is not very supportive of our four-legged friends.  Many are homeless and because they are not spade/neutered the population increases.  They are friendly and hopeful that someone will feed and love them.
Georgetown is a UNESCO world heritage site and is a melting pot of eastern Asian cultures.  There is much to discover and explore.
However, we found the beaches of this island to be quite underwhelming and dirty.  Perhaps things have changed after the pandemic, but locals that we met in other parts of Malaysia were not as hopeful.
If you are looking for amazing beaches that are close to Penang, then we would highly recommend the ones of Thailand like the ones in Koh Tao.  
Have you been to Malaysia or more specifically Penang?  What did you think?  We would love to hear from you!
Please follow and like us: