Koh Lanta is one of the most accessible tropical islands in Thailand that is mostly unspoiled and very welcoming. The island is only 70 kilometers from Krabi and it's international airport, but feels a million miles away due to it's gorgeous strands of never ending beaches, lush jungles, pretty coral reefs and bohemian laid back feel.
Koh Lanta is actually a number of islands, two of which are connected by a bridge. The best beaches and attractions are located on the southern island called Koh Lanta Yai (this post is all about this southern part of Koh Lanta).
Getting there….
We reached Koh Lanta by speed boat from Koh Phi Phi. The Andaman Ferry was a great way to go as they pick you up from the Phi Phi dock and take you all the way to your hotel on Lanta for about $12 USD per person.
From the Krabi airport they do the same (pick up from the airport, ferry ride and drop off at your hotel on Lanta). There and back to the airport per person is about $39 USD. Being shepherded around this way is really nice, as the ferries can be confusing to even a seasoned traveler.
Getting around…
Getting around Koh Lanta is quite simple on a moped. They are readily available for about $6 USD per day. A 125 cc moped got both of us around the island's hilliest parts without the need for me to get off. Tuktuks are also in abundance, but are much more expensive and struggle on the hills.
Where to go….
There are 9 major beaches on Koh Lanta's west coast with the sand stretching farther and farther south until reaching the stunning Mu Ko Lanta National Park.
The east coast of the island has a much more traditional feel, with fewer tourists yet plenty of temples, shops and restaurants to explore. The islands original capital is Lanta Old Town – a town with a wild west feel with wooden buildings stretching out over the water, covered in bougainvilleas and other colorful plants.
Our first destination on Koh Lanta was Klong Dao beach. We stayed in a small boutique hotel which had a pool overlooking the huge swath of beach – powdery sand with crystal clear water. Oddly the Maya Koh Lanta was filled with Swedes – we were the only non Swedish couple in the hotel.
The beach in Klong Dao is long and quite deep which allowed me to run on it's sandy powder barefoot without the obstruction of beach umbrellas and chairs. Whenever I would get too hot, a dip in the water proved quenching, although still quite warm.
In the evenings we would walk barefoot to one of the dozens of restaurants located right on the beach, beneath the palm trees. Facing west, we were regaled with some of the most stunning sunsets, watching local dogs fish for food and frolic in the waves.
The next stretch of beach going south is called Long Beach and is a 4 km stretch of sand unobstructed by typical umbrellas, mostly unspoiled with crystal clear water.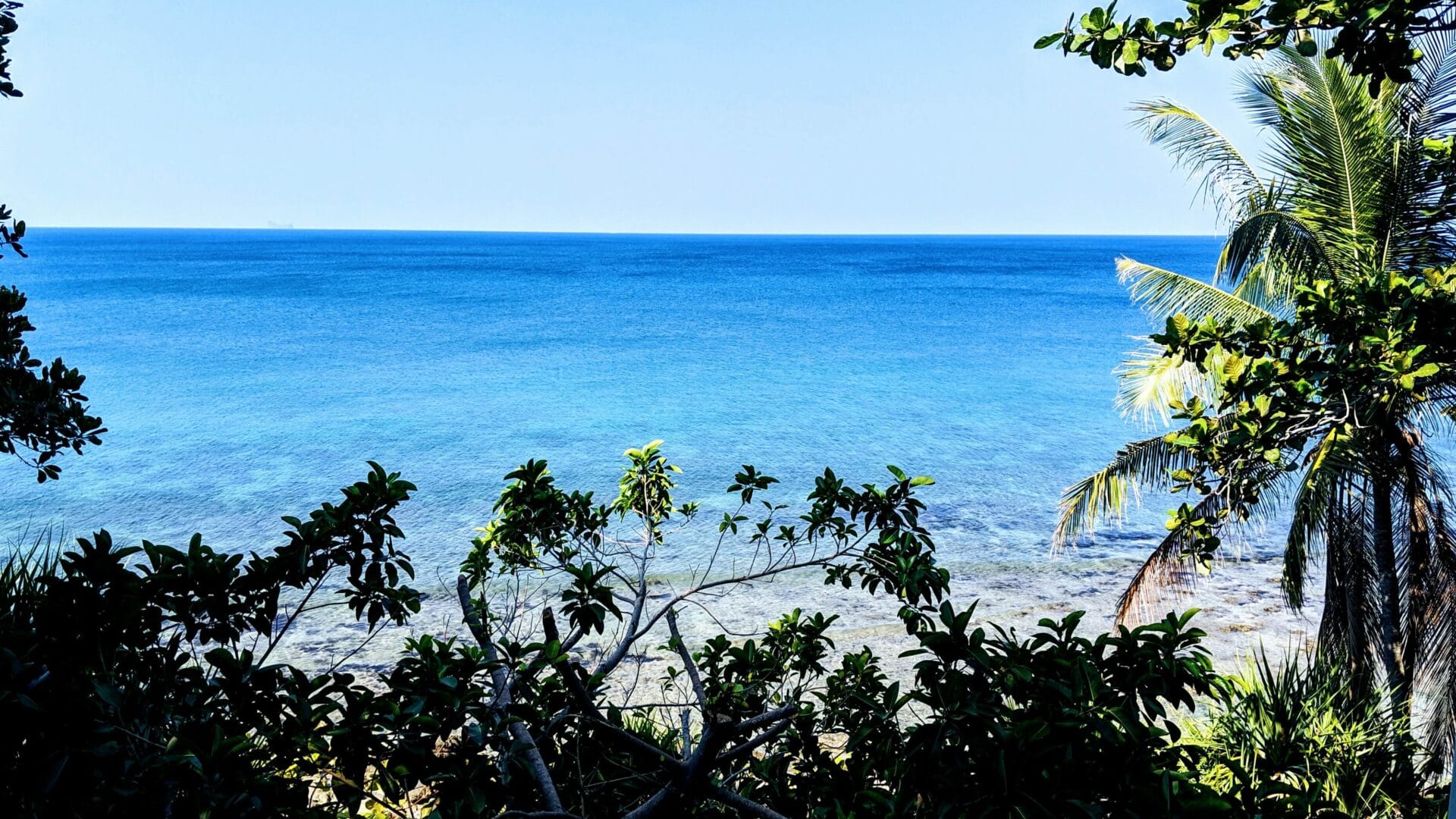 We continued south along the west coast to Moonlight Exotic Bay Resort located on Klong Nin Beach. This was a lovely hotel with individual cabins peppered up and down the hill overlooking the crystal clear water. The hotel was within walking distance of a number of restaurants that cooked us delicious vegan dishes.
Our favorite was Mama Dang's Kitchen. Mama cooked us delicious Thai food every night, sometimes ducking across the street to the market for additional fresh ingredients.
We made many day trips around the island with our favorite destination being Mu Ko Lanta National Park. A delightful park on the southern most tip of the island (which actually stretches across a number of islands and over 134 square km).

The national park consists mainly of rugged hills covered with 20 square km of rain-forest and beach forest along the southern most coast line of the island. There is a self guided trail to traverse up, across and down one of the main rugged hills, showcasing some of the island's most interesting flora and fauna.
The sandy beach is welcoming yet quite serene due to it's few visitors. Showers are available to patrons of the park who wish to wash the salty Andaman Sea off prior to straddling their mopeds and riding away, past mango eating monkeys and stunning vistas.
Waiting for our ferry ride from Koh Lanta to Krabi we stopped in for a quick lunch at Mia's Hangout. Mia serves raw vegan food straight out of her home which is situated on the water near Saladan Pier. To say that the food was good would be a huge understatement. The raw vegan ice cream was to die for – everything that we had was amazing.
Sitting on Mia's deck overlooking the water with the sun beaming down on us and petting her adopted dog was one of those serene, meditative moments that I will keep with me forever. I am so grateful for these opportunities to meet such grounded, thoughtful humans who try to make our planet a little better day after day.
Please follow and like us: