Last updated on November 28th, 2022 at 10:31 pm
We flew into New Caledonia awestruck by it's crystal blue Lagoon encircling the main island.  Just beyond the Lagoon (which is the biggest in the world) is the coral reef surrounding it and the island.  This reef is the second largest only to the Great Barrier, teeming with colorful fish and corals.  And New Caledonia is not only a water jewel.  It is also well known for it's mountains perfect for hiking and mountain biking.  We were stoked to explore such a nature lovers paradise.  New Caledonia is really the jewel of the South Pacific,
Arriving in New Caledonia I had to do a double take.  Am I still in the South Pacific or did I somehow land in Provence?  After spending over 2 months on many islands, I knew this was going to be a different experience.  The airport was ultra clean and well lit.  The roads were well paved with clear signs.  And the water, oh my goodness, the water.  It was crystal clear. The beaches were immaculate.  Not just near resorts, but everywhere!  We could not wait to explore New Caledonia, a true jewel of the South Pacific.
Most people speak French in New Caledonia.  There are 28 Kanuk dialects spoken as well.  In touristy areas people also speak English.
The main island is 350 km long and 70 km wide. 
Transportation to hotels can be expensive.
There are tourist buses that run 25 different routes with 360 stops on the main island.
Line 12 is a bus from Noumea (the capital) towards the south. Schedule is here.
Bicycles are available for rental in Noumea here.
Renting a car at the airport may be a good option.  There are a few agencies to choose from, each carrying almost new compact cars.
French quality bakeries are available in most towns on the main island.
European grocery chain outlets are found in the larger cities.  They carry French and European imported dry goods and specialty items.
The cost of groceries is the same as in western countries.  Expect to pay more for specialty items due to the transportation costs.
Good quality produce (at times even organic) is available as well.  
As in most things French it is not easy to find vegan eateries, unless you are in the capital – Noumea.  
There are many western restaurants in Noumea which we found to be quite expensive.  
Outside of Noumea, there are cafes peppered along some of the larger towns.  
We had a hard time choosing trails over snorkeling usually settling for doing both each day.  The mornings were perfect for mountain biking and hiking.  While the afternoons were saved for kayaking and snorkeling.  
Kayaking out to the reef is possible as long as you are a very strong paddler and swimmer.  Honestly, don't try it unless you know you can do it.  Paddling straight out from Poe you will see buoys to tie off the boat right before the waves.  The current here is very strong.  We snorkeled together fascinated by how large the living coral is in this vibrant reef.  The fish are abundant and colorful as well.  Yet, it is the colorful coral that truly amazed us.   
The lagoon (which is much closer to shore) also has some coral and large turtles teeming with beautiful colorful fish.  Kayaking to this area is much easier.  There are no spots to tie the boat off, so we took turns snorkeling in this beautiful, warm and shallow water.   
Rob also enjoyed a seaplane ride over the lagoon and reef.  The tiny airport offering these flights is just outside the preserve.  The cost for 30 minutes was about $120 USD.  If the tide allows, ask to land on the beach.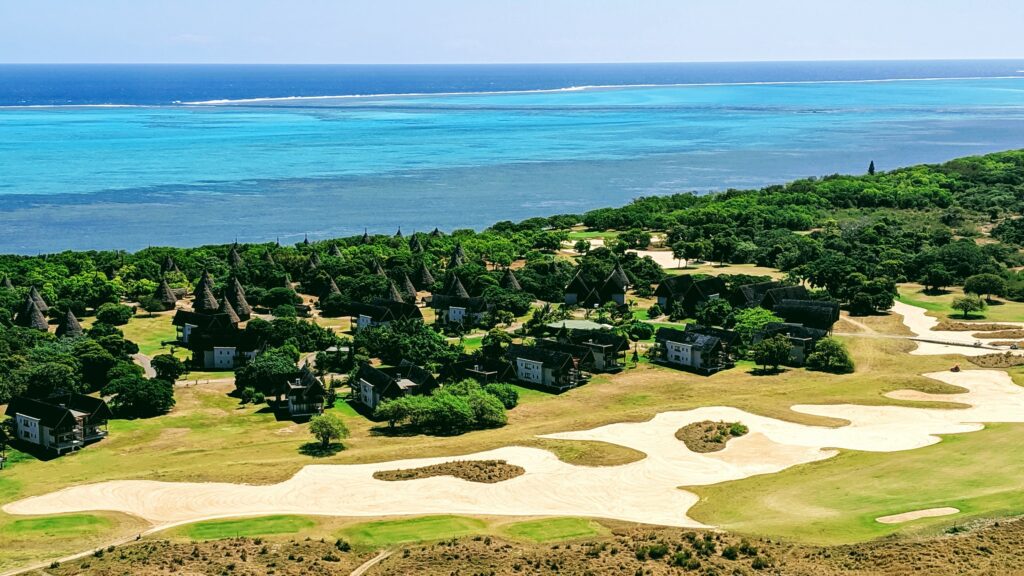 Whether you are staying at the Sheraton Deva Resort New Caledonia or in the hostel Auberge de Poe (adjacent town) the preserve was our favorite experience in New Caledonia.  
Ile Des Pines – A ferry ride or short flight south from the main island of New Caledonia is this secluded small island.  It is encircled by white sandy beaches and tall pine trees.  The Baie d'Oro is a must visit natural pool.
Ouvea Island – East of the main island of New Caledonia is this stunning atoll.  Bright colorful fish and white sandy beaches offer a secluded paradise.  Make sure to check out the Shark Nursery.
Mont Panié  – At 1629 meters this is the highest peak of New Caledonia. Located on the main island's northern province it showcases some of the country's best waterfalls and swimming holes.
These islands really surprised us.  Sure Samoa had some interesting hikes and Vanuatu had unusual and interesting snorkeling, but New Caledonia really stole our hearts and proved to be the jewel of the South Pacific.  
Have you been to New Caledonia?  Let us know if we missed any interesting places.  If you are planning a trip and want some additional ideas about this area shoot us a message and we will try to help.
Please follow and like us: