The Courtyard Marriott Kuwait City truly did amaze us!  The level of services and attention to detail for the price was an extraordinary bargain and we can't wait to tell you about it.
As many of you know, we travel 100% of the time.  And we stay in hotel chains most of the time.  Because of our high status in most of the top hotel chains we expect a certain level of service, upgrade and luxury.  We do write about the resorts but very rarely do we dedicate a whole post to a city hotel.  
Why?  Well, because they are all pretty standard.  We expect a certain level of service and we usually get upgraded to a suite.  But the hotel is nothing to write about,  It is your typical city hotel regardless of whether it is a Marriott, Hyatt, IHG, Hilton or otherwise.
However, the Courtyard Marriott Kuwait City hotel was way over the top.  Every single thing was amazing.  And you wouldn't believe how little we paid for it! Read on to find out how we did it and how little it cost.
The Value of Marriott Bonvoy Points
The Courtyard in Kuwait City is considered to be a 4 star business hotel.  Accordingly, the current value of a standard room starts at $300 USD/night.
Here is where the value of Marriott Bonvoy points truly comes into play.  We value a Bonvoy point to be around 0.7 cents on average.  When one books a 5 nights stay at a Marriott hotel on points, the cheapest of those 5 nights (points wise) is free.  
So lets walk through the math.  We paid 40K points for the 5 nights.  This is 8K points per night which at 0.7 cents per point (multiply by 0.007) = $56 USD per night.  
So a standard room averages at $300 per night and we paid $56/night.  However, we did not get a standard room.  We received a suite because of our Titanium status. 
In addition, there was an amazing free breakfast which felt more like a specialty brunch.  And to boot we were picked up from the airport (and dropped off) in a hotel car for free.  Yes, for free!
Why we Loved the Courtyard Marriott Kuwait City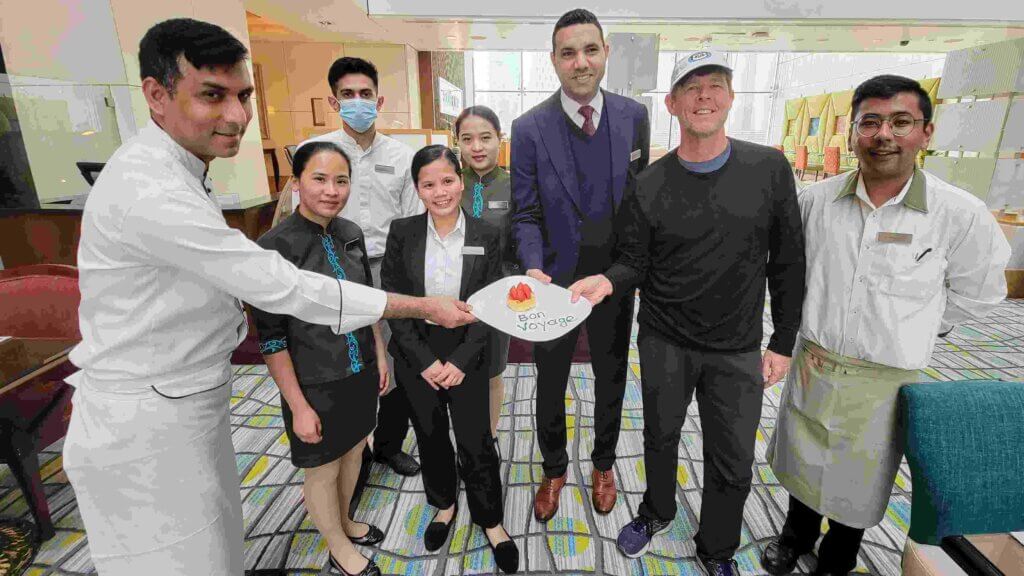 There were 7 reasons why we fell in love with this hotel.
The value for the money was insane!
Customer service was luxury resort level.  They anticipate your needs.
The suite was large and very comfortable.  
The breakfast was one of the best we have had.  Mohamed Hamed, the hotel's Assistant Food Manager offered me different vegan dishes every morning! His staff is also outstanding and incredibly thoughtful.  These guys were a big reason we loved this hotel.
The town car pick up and drop off from the airport was completely over the top!
The pool is actually heated and is a delight to swim in.
The location of this hotel in Kuwait City is also a huge plus.  We really enjoyed Al Shaheed park which was within walking distance.
The value of this Marriott Bonvoy hotel is really amazing.  It isn't at the level of our experience at Le Meridien Maldives Resort & Spa but for a city hotel it is great!
This type of Bonvoy point value really does make it clear to us why we have been Titanium Elite members for over 9 years.   A Marriott hotel may not always be the best fit – we do sometimes prefer the Hyatt, or another chain.   However,  this hotel truly reminded us of the great value of these points!
Have you had a great stay on points?  We would love to hear your story! 
Please follow and like us: