Turkmenistan is the 147th country that we had visited and is by far the most bizarre!  Think The Truman Show meets The Twilight Zone set in the Soviet Era.  This is especially true for their capital, Ashgabat which is known for everything white, marble and the biggest of many things. 
And then there is the Gates of Hell.  A man made disaster turned tourist attraction.  The surreal cliffs and canyons of Yangykala are quite impressive and other-wordly as well.  Nothing here is normal. 
So if you enjoy the eccentric and the bizarre, mixed in with some beautiful nature and history, then this off the beaten path bizarro world may be just the destination that you are looking for. Just be prepared for a very uncanny and unique experience that is unlike anything else in the world.
This unique country is often overlooked by tourists and for very good reasons. What are they?  Well, first of all it is a closed country that is a dictatorship meaning that there is no freedom of speech or expression.  Think North Korea or Eritrea.
The citizens are continuously watched and punished for any behaviors that are not in line with the dictator's doctrine. Human Rights violations including torture, arbitrary arrests and detentions are common place.  As is high corruption, rigged elections and closed borders for most citizens.
Second, the visa process (that most passport holders need to get) is arduous, long, expensive and does not guarantee you an entry visa at the end.  
Third, you need an invitation to come here and a guide to show you around.  You are not allowed to see the country on your own. 
Fourth, there is very weak connectivity here and most applications like What's App, Facebook, etc., are prohibited.  Locals have some ways around this but they are all illegal and difficult to find.
With all this said, why bother coming here?  Well, if you are looking for an off-the-beaten-path travel destination, where you are traveling to one of the most bizarre, memorable, fascinating and unique places in the world, then Turkmenistan is definitely worth considering. 
Turkmenistan is located between  several  Central Asia countries. Kazakhstan and Uzbekistan are to the north.  Afghanistan is to the south east and Iran to the south with the Caspian Sea on it's western border. 
The population of Turkmenistan is highly debated as the government claims that it is over 6 million people.  However, the census is showing that almost half have recently fled the totalitarian regime only leaving 2.7 or so million within the country.
Brief History on the Countrie's 30 Years
Political leadership rarely changes in Turkmenistan. There have been only two transitions of power in the last 30 years of its independence. The first one took place in 2006, when the first president Saparmurat Niyazov passed away. Gurbanguly Berdymukhamedov succeeded him and ruled until 2022. On March 12, 2022, he handed the presidency over to his son Serdar in snap presidential elections that were neither free nor fair.
The first leader of Turkmenistan, Saparmurat Niyazov, was a dictator who ruled the country with an iron fist for over 20 years. He was known for his eccentric personality and his bizarre policies. For example, he banned lip-syncing, changed the names of the days of the week and months of the year, and built a giant golden statue of himself.
After Niyazov's death in 2006, his successor, Gurbanguly Berdimuhamedov, and now his son Serdar have continued to rule the country in a similar authoritarian fashion. Turkmenistan is still a closed country, with no freedom of speech and assembly. The government controls all aspects of life, from the media to the economy.
What Makes Turkmenistan Bizarre
One of the most bizarre laws in Turkmenistan is the law that bans lip-syncing. This law was created by the former president, Saparmurat Niyazov, who believed that lip-syncing was a sign of moral decay. The law is still in effect today, and anyone caught lip-syncing can be fined or even imprisoned.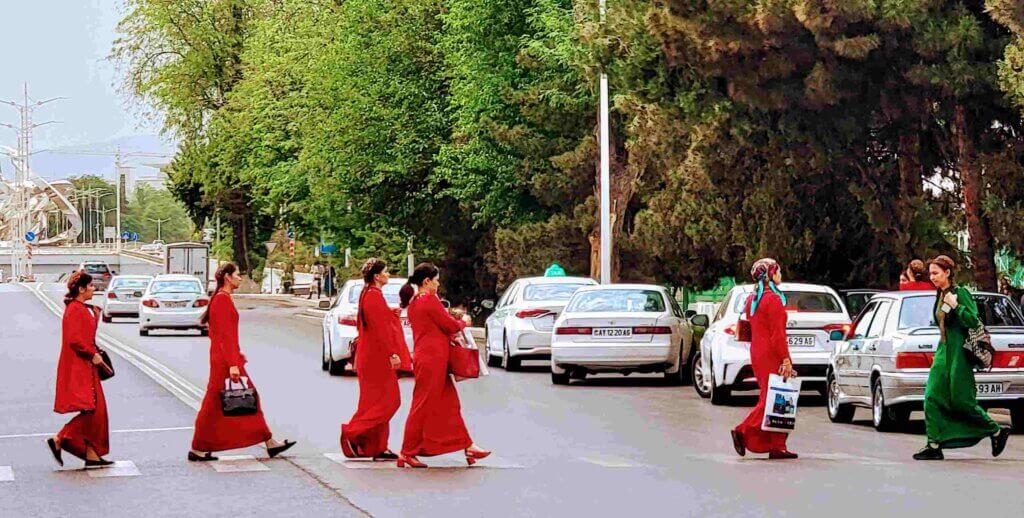 Another bizarre law here is the one that requires women to wear traditional clothing. This law was also created by Niyazov, who believed that women should dress modestly. The law is still in effect today, and women who are caught wearing Western-style clothing can be fined or even arrested.
Niyazov also banned the opera, the ballet and circus, deeming them all unnecessary.  Unfortunately the circus, together with those poor live animals has returned to Ashgabat and performs regularly.  In addition, there is a National Horse Day which was started by the former President's fascination with horses.
Niyazov also wrote a book called Ruhnama – the Book of the Soul.  This book was required reading for most citizens until 2011.  School children would need to pass exams on this book prior to graduating.  In addition, you could not get your drivers license without properly answering questions on the book and reciting the required verse.
In addition, Niyazov required all imams to properly display the Ruhnama in their mosques.  If a cleric or imam refused, Niyazov would order that mosque to be destroyed.
A giant statue to commemorate the Ruhnama book was built in Ashgabat.  The idea was that the giant book would open every day at 8 pm and some verse would be electronically read from it.  But as many things in this country, the installation worked for a couple of weeks and then broke.  
Only white cars are allowed to enter the city of Ashgabat.  All cars of other colors have been banned from driving in the city.  You will see an occasional grey or beige car which is from another city – however no other colors of vehicles are visible in the country.  Even the buses and ancient Soviet Era Ladas are all white!
There were and continue to be many bizarre laws and practices in this country.  These include banishing all dogs from the capital because Niyazov did not like the way that they smelled.  However, after learning that dogs gnaw on bones yet have strong teeth, he strongly recommended that his citizens chew on bones as well
Makeup was also banned due to his belief that all of his citizens had natural beauty.  
Turkmenistan is also a country that is full of bizarre architecture. The capital city, Ashgabat, is home to many buildings that are made of white marble and gold. These buildings are designed to show the country's wealth and power.  
One of the most bizarre buildings in Ashgabat is the Ashgabat Tower. The Ashgabat Tower is a 211-meter tall skyscraper that is the tallest building in Turkmenistan. The tower is topped with a golden crown, and it is said to be a symbol of the country's president.
Another bizarre building in Ashgabat is the Palace of Happiness – or the Wedding Palace. This Palace is a wedding palace that is decorated with gold and marble. 
And to top it all off, the Alem Center (Alem means Universe) is the largest indoor ferris wheel in the world. The building where the wheel is installed is a cultural center.  It is also used as an entertainment center featuring a bowling hall, a banqueting hall, a cinema, restaurants, etc.
3-5 Day Itinerary in Turkmenistan
Much of Ashgabat was destroyed in the 1948 earthquake so the majority of the city is either mid-century Soviet era buildings or ostentatious and bizarre creations of the first president of the country.  However, the city is oddly large and to see everything requires some travel.
We always enjoy walking at least large parts of any city.  However Ashgabat attractions are so far apart that the city must be done in chunks.  We also recommend that you visit the city by day and by night, as the experience is very different.  By night, hire a taxi or just flag down a car.  Agree on a price and the cabby will take you to all the top sights and attractions. 
The citizens are proud of their city and due to the fact that it is one of the least visited countries in the world, they love the opportunity to show it off.
Top sights to see: Wedding Palace, Arch of Neutrality (otherwise known as 3 legs), Independence Square with golden domed Palace of Turkmenbashi (Oguzhan Palace), Independence Park (with the Ruhnama Monument),  Pyatinozhka (5 legs), Yyldyz Hotel, National Musuem of Turkmenistan, , Russian Bazaar, Alem Center, Turkmen Carpet Museum, Bitarap Avenue
By night take drive on the main avenue of the capital.  Bitarap Türkmenistan Sayolu, is 12.6 km long and lined with 170 buildings clad with a total of 1.1 million cubic meters of white marble and many flashing lights and sights.
Gates of Hell - Darvaza - 2 days
3.5 hours north of Ashgabat is a  famous man made crater dubbed the "Gates of Hell".  It was created in 1971 when a Soviet drilling rig accidentally punched into a massive underground natural gas cavern, causing the ground to collapse.  Sadly toxic fumes killed a couple of shepherds, so the Soviets decided to set the cavern on fire to burn off the flames.  They had thought that the flames would subside n a couple of weeks.  However, 52 years later the fires are still burning brightly and this area has become a tourist attraction. Beware though, as the current president wants to shut this attraction down.
The road to get here is very tough and bumpy.  There are many potholes and the road is not easy.  However, seeing the sun set over the crater and spending the night camping close by made this trip a very special one.  
There are so many pro tips for this place!  We will mention some of the top ones here:
Exchanging money – do NOT take money out of the ATMs or exchange it at the airport.  The official exchange at time of writing is 3.5 manat to 1 USD.  However the black market rate is 18.7 manat to 1 USD.  Most corner shops and drivers will exchange.  However, do not ask at your hotel.  Although everyone does this, it is illegal.  Although we were told that the Russian Bazaar will exchange USD, when we went no one would do it.  If you are stuck like we were, send me an email and I will show you the exact location of a corner store that gave me the best exchange with no problems.
Middle of the night arrival – most flights arrive in the middle of the night.  And hotels are expensive.  It will take a few hours to get out of the airport due to the current "PCR covid testing" and visa process.  I would recommend not getting a hotel for the first night and just coming to the hotel to leave your bags.  If you are able, watch the sun rise over the city.  It is lovely!  Or just snooze on the coach of the hotel.  If you have a good tour agency, they will most likely get you into your room by 9:30 am.
The "PCR testing" at the airport.  Ask your tour agency to put you on the Express Testing list.  It costs the same $45, yet you do not have to wait the 2 hours for the test results as they just do a rapid test.
Out of the 149 countries that we have visited, Turkmenistan is the most unique, the most bizarre country with the strangest laws and customs.  This country has less visitors than the tiny and remote island of Tuvalu!  Yet, it's peculiarities are what makes it a worth while travel destination.
In addition, for us it is very important to write and expose human rights violations wherever we see them.  And this country has so many of them!  A country not seen is a country forgotten.  With the over-the-top white marble city of Ashgabat to the Gates of Hell this peculiar off the beaten path travel destination is one we will never forget.  
Have you been to Turkmenistan?  Would you want to go?  We would love to hear from you!
Please follow and like us: