The beach at the JW Marriott Phu Quoc Emerald Bay Resort and Spa is by far the best beach in Vietnam!
I read many blogs and reviews of Vietnam's beaches and was seriously confused.  Some said that the shoreline of Vietnam was Asia's greatest secret and others said that it was polluted and not really worth a visit.
Traveling down the coast from Halong Bay through Da Nang and Hoi An I would agree with the later reviews.   The beaches we saw were woefully polluted and really incomparable to some of our favorite ones in the world including Thailand.
With that said, there were some private beach stretches between Da Nang and Hoi An that were better and had amazing potential but on the most part, the garbage littering the powder white sand said it all.
When Rob booked a stay at J.W. Marriott Pho Quoc, Resort & Spa in Emerald Bay, I didn't know what to expect. Our free nights (which we receive annually through our Marriott Rewards Premium Plus card) were expiring so we wanted to use them up in style!
Phú Quốc is an island in Vietnam located off the coast of Cambodia in the Gulf of Thailand. It is known for white-sand beaches and resorts, most of which are along the palm-lined southwest coast.
More than half of the island is part of Phú Quốc National Park, which features mountains, a dense tropical jungle, hiking trails and wildlife. Duong Dong is the largest town, with day and night markets selling crafts, produce and fish.
J.W. Marriott Pho Quoc Emerald Bay Resort and Spa is located on the southern tip of the island, in a bay on the calmer east side.
It was created as a make believe 19th century French University and has a whimsical style replete with a Rhodesian Ridgeback mascot and century old books displayed in libraries throughout the property. Even some of the electrical carts ferrying patrons from one part of the "university" to another have flair.
The Emerald Bay beach is quite stunning, with white powder sand and turquoise, crystal shallow water that is as warm as a bath. Workers groom this beach constantly to keep it this pristine.
However, looking a little closer, I found a plastic bag hidden beneath the surface…and then another and another followed by pieces of glass bottles and more garbage.
Spending a couple of hours pulling all this refuse from beneath the shoreline I thought that we were done – yet unfortunately there was still more to be cleaned the following day. That is how bodies of water work – they are all connected.
Walking away from our hotel towards the neighboring fishing village the beach got worse and worse – no wonder the resort can't keep up with the onslaught of pollution.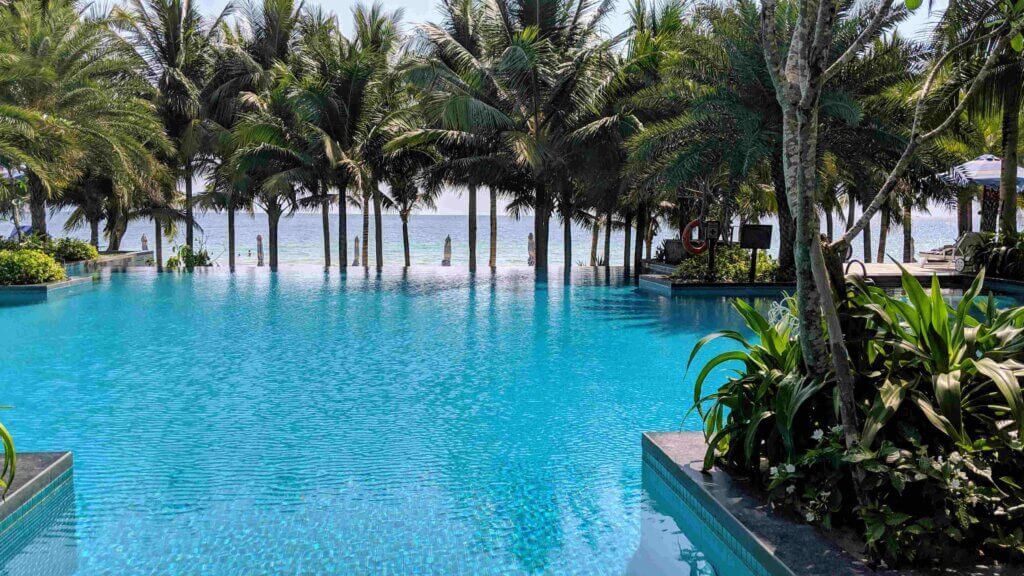 With all that said, JW Marriott Emerald Bay beach was the best one in Vietnam (from my perspective) and was truly secluded, with crystal clear water and lovely accommodations.
We did end up staying a few more nights on the most popular beach in Phu Quoc – Long Beach, but I found it to be quite dirty and over crowded – no comparison to the Emerald Bay beach.
Wrap Up JW Marriott Phu Quoc Vietnam
After visiting many of the beaches along the Vietnam shoreline we fell in love with the one at the JW Marriott Emerald Bay Resort and Spa.  The water is crystal clear and the beach is clean (unlike most of the other beaches that we saw in Vietnam),
Our favorite beaches are still in the Maldives, French Polynesia, Antigua and Thailand.
Have you been to this beach at the JW Marriott Emerald Bay Resort and Spa?  We would love to hear from you and find out what you liked and what you didn't like.  
Please follow and like us: