Last updated on November 22nd, 2022 at 08:45 am
Antigua has some of the best beaches in the world.  Yes, the world!  Ringed with coral reefs, the island is known for its crystal clear water and pristine sandy shorelines.  There is a beach for every day of the year here! 
First of all, the whole coastline is considered public land.  Therefore if you can figure out how to get there, you are allowed on it.  The east coast of the island is windy and rough.  While the west coast is much calmer.  Ultimately, we enjoy secluded beaches with calm crystal clear water and pristine powder sand.  Therefore, if you do as well, read on to learn about our list of the best beaches in Antigua.

You will not find Paerns Bay Beach on any guide or even in GoogleMaps!  Therefore this is one of the reasons why this is one of the best beaches in Antigua.  Above all, the super soft sand continues into the warm crystal clear water making this the ultimate island destination.  In addition, there is a fabulous view of Jolly Beach Harbor and not a soul in sight!
Please note that you cannot get here from Jolly Beach Harbor (the road is blocked by security).  Therefore, the only way in is from the north.  Since the beach is not in GoogleMaps it is just labeled Antigua (on our map below).  The ultimate beach is on the southern part of the point.  From Valley Road (at Jennings), take the paved road  which turns into a dirt road.  It is accessible by regular car. Therefore 4 wheel drive is not necessary.  Parking is right in front of the shore.
Ffryes Beach is quiet and heavenly.  Consequently, this is one of our favorite beaches on Antigua.  It was our go to while staying in the Jolly Harbor area. 
In addition, there is  a bar/restaurant there and a shack that sells cheap food and drinks.  However, all of these amenities are currently closed due to COVID, making this spot even more secluded.
Ffryes is a 7 minute walk from Valley Road and is easily accessible by car as well.  
Valley Church Beach is very close to Ffryes.  However, it is another place that is not labeled on GoogleMaps.  Cocos Hotel Antigua is set on the most northern part of this sandy swath of land.  Moreover, the sandy shoreline is so long that we rarely saw any other people on it.  
Undeniably this place is truly spectacular.  The water is so calm, crystal clear and stunning!  Hence, making it one of the best beaches in Antigua.  In addition, a small shack rents a wide variety of water sports equipment.  
However, getting here is a bit tricky.  Located just north of  Our Lady of the Valley Anglican Church, there is a road leading towards the water.  Although, the gate is locked, there is a foot path to the right of it.  Therefore, follow the small trail.  Ultimately, it will lead you to the other side of the fence where paradise awaits.
Dickinson Bay is almost entirely dedicated to the Sandals resort.  However, it is a very wide and long shoreline so we found quite a few secluded spots on it.  There are a few shacks offering clothing, food and water sport rentals.  In addition, large catamarans come and go, creating a fun visual experience.  Although, this place is not as private as the others, it's overall beauty and other attributes secured it into our  top 5 best beaches in Antigua.
Coco Beach is located between Ffryes and Valley Church beaches.  Just follow the dirt road from Valley Road towards Sheer Rocks Resort.
This beach is a favorite with some of the locals.  Here, calm crystal clear water awaits you making it one of the best beaches in Antigua!
Deep Bay Beach is another crescent bay sandy wonder located just below Fort Berrington.  To get here one, must take a dirt road toward the Fort and park at the end of the road.  On the left there is a skinny foot bridge that takes you toward the ascent to the Fort.  After the bridge, the trail forks.  Ultimately, take the left path which will bring you to this intimate beach.  
In summary, the crystal clear water and pristine sand truly make Deep Beach one of the best beaches in Antigua.
7. Galleon Beach - Best Snorkeling in Antigua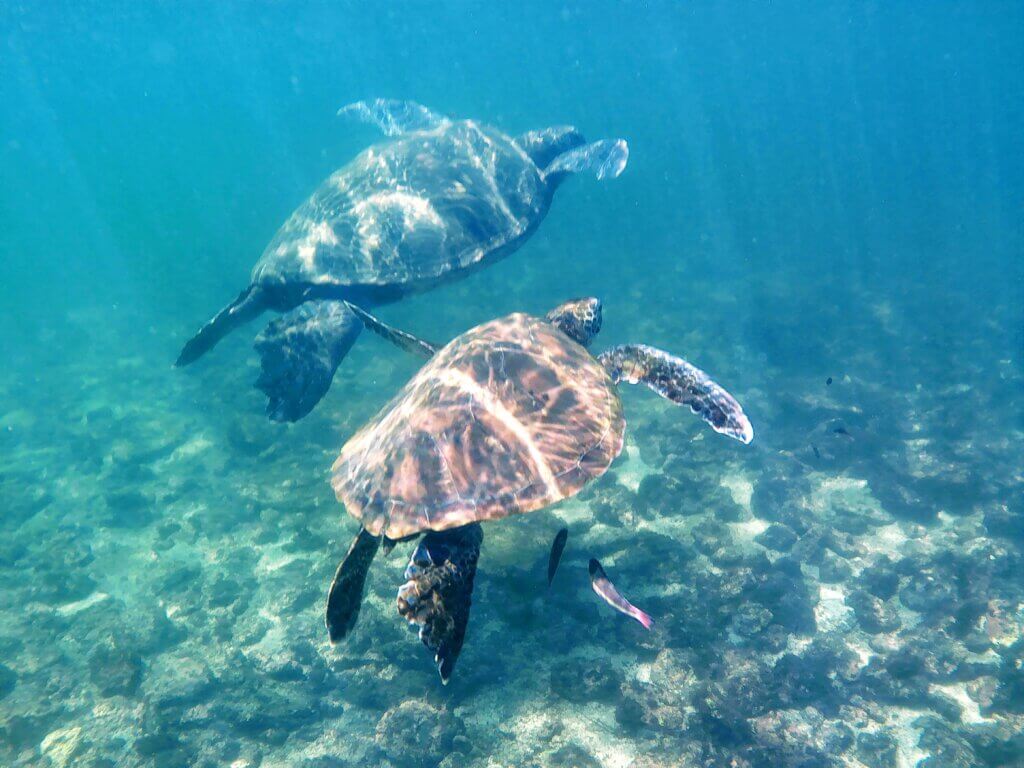 English Harbor is home to so much adventure!  From the best hiking in Antigua to Galleon Beach, which is one of the best beaches for snorkeling.   The marine life is diverse and abundant here.  We saw turtles, eagle rays, nurse sharks and many fish.  There is also a sunken ship just 15 feet deep that is very accessible from shore.
For the best snorkeling experience, pass the traditional Galleon Beach and keep walking south towards the "Pillars of Hercules".  There is a small path just above the shore which drops into the small snorkeling beach.  The actual beach is not that impressive, but the snorkeling is terrific.  The turtles and rays are so accustomed to people that they usually hang out with snorkelers for lengthy periods of time.
8. Darkwood Beach - Best Beach for Kids in Antigua
Darkwood Beach is listed in many guides as one of the best beaches in Antigua.  Yes, this beach has crystal clear water and lovely sand.  Yet, it is directly behind a very busy road taking it out of our favorites list.  However, it does have a huge inflatable water park right off shore.  Consequently, this makes Darkwood Beach a fantastic place to take kids for a day of fun water activities.  In addition, the beach has a bar/restaurant which was open during the COVID lockdown.
Antigua has some of the best beaches in the world let alone the Caribbean!  This is a must visit destination if you enjoy calm, crystal clear water with the most pristine sandy beaches.
Have you been?  Did we miss any of your favorite best beaches in Antigua?  We would love to hear from you.
To read about the beaches and our experience living in Barbados, please click here.
Please follow and like us: