St. Kitts and Nevis has some lovely beaches.  Not as many as it's neighbor Antigua and Barbuda, but none the less some white sandy calm beaches with crystal clear water. The best beaches in St. Kitts and Nevis are located on the north western side of Nevis and in the south of St. Kitts.  Read on to find out which were our favorites and which we would recommend not to visit.
Are the best beaches in St. Kitts and Nevis on the leeward or the windward side?  Well, it all depends on what you enjoy to do.  For us, the calm water of the leeward side is always our favorite.  Now, if you enjoy wind water sports, then our list is probably not your cup of tea.
Best Beaches on St. Kitts and Nevis
Pinneys Beach is by far the best beach on St. Kitts and Nevis.  The calm crystal clear turquoise water is warm and passes the "see your toes" test.
Half of this beach is dominated by the Four Seasons Resort.  However, you are allowed in the water there.  Yet, we preferred the short walk south towards the fully public side of Pinney.  
While there, visit the popular Sunshines Restaurant.  Celebrities have been known to frequent here.  Sunshine himself is an interesting person to talk to as well.  Most come here for the seafood and the famous Killer Bee Rum Punch.  I don't drink, so would not know but the locals warn you not to have more than 2.  So you know the stuff packs a "punch".
Getting here:  The road to Sunshines Restaurant leads to Pinneys public beach.
2. Paradise Beach (Nevis)
Just north of Pinney Beach is a stretch of white sand that has a few more waves than our first recommendation but is usually deserted and equally warm.
Paradise Beach Resort is on this stretch.  But again, the sand and water is open to the public to enjoy.  In my opinion the Paradise Beach Resort offers nicer accommodations than the more well known Four Seasons.  
Getting here: Just south of St. Thomas Primary School there is a dirt road that leads you to the beach.  From there head north on foot.  The best part of the beach is just north of the resort.
3. Cades Bay Beach (Nevis)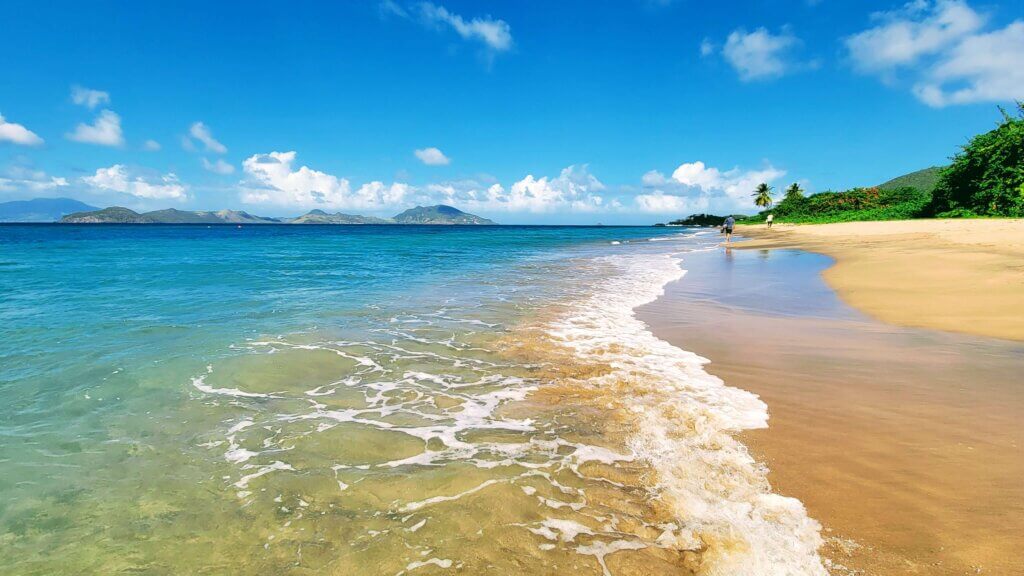 Cades Bay Beach is the most northern part of the long stretch of white sand just south of Tamarind Cove Marina.  
This spot is the best along this northern strip of sand because it is a bay.  Hence, the water is much calmer here.
Getting here:  The cove is just north of Chrishi Beach Club/The Love Shack Bar.  
4. Turtle Beach (St. Kitts)
Turtle Beach is located on the most southern point of St. Kitts.  It is the calmest Bay on the main island and has a chill vibe.  And yes, you may see  some turtles on the golden sandy beach.  The famous Reggae Beach Bar is here as well.   Beware that weekends and cruise ship days could make the beach quite busy especially on weeekends.
Getting here:  It is a 20 minute drive (without traffic) from Basseterre via Kim Collins Hwy.
Both the Four Seasons and Paradise Beach Resorts have rooms starting at $1,000+ per night.  We found a delightful Airbnb just east of Paradise Beach in Jessups  Village.  It had a huge private terrace overlooking the water and a large 2 bedroom apartment with air conditioning and a large open concept living room and kitchen.  Monkeys would come to visit on the grounds daily.  In my opinion this was the prime location to stay on the island without a car.  Our favorite beaches were within a 10 – 20 minute walk from the house.  However, the closest supermarket was closer to a 40 minute walk.  I enjoyed the walks, but for those who don't. there are buses and taxis on the island as well.  
Our least favorite beach and place to stay on these lovely islands may surprise you.  Why? Because it is the most famous hotel on St. Kitts. 
St. Kitts Marriott Resort and Spa is set on a very rough unswimmable beach which is incredibly windy.  Since we love our Marriott stays we booked 2 weeks here.  After taking a look at the beach we knew that we needed to retreat to the best beaches on St. Kitts and Nevis.  Therefore we took the first fast ferry (30 minutes) to Nevis.
If you enjoy calm, crystal clear water on white sandy beaches, then the western side of Nevis is probably for you!  We truly enjoyed the laid back feel of this pretty island.
Have you been to some of the best beaches on St. Kitts and Nevis?  What were your favorites?  Did we miss any?
We would love to hear from you!
Please follow and like us: