The Intercontinental Bora Bora Resort Thalasso Spa is a luxurious oasis in the heart of the South Pacific.  It is set among shimmering turquoise waters and surrounded by majestic mountains. We could only dream of staying in this swanky and unique retreat. 
However with our travel hacking points and miles game we did not have to dream too long! Using the right credit cards, we were able to stay in these over the water bungalows for a tiny fraction of their price.  Read on to find out how we did this!
We have been very fortunate to have visited numerous resorts in the Maldives, Fiji, Seychelles, Mauritius, Thailand, the Caribbean, the Greek Islands, Vanuatu, Kiribati, Mexico, Belize, Mediterranean, Hawaii, Bali, Philippines, Costa Rica,  etc.,  And Bora Bora keeps on coming up as our second favorite resort/beach destination after the Maldives.
The warm, calm, blue water filled with colorful fish, coupled with luxurious over the water bungalows are a spectacular setting for a honeymoon, vacation or just pure unadulterated relaxation!
You simply don't need to deal with the sea weed – like in some areas of the Caribbean and Mexico!  There isn't the garbage of some Asian countries.  And the beaches are pure sandy white – unlike many of the rocky pebbly ones around the Mediterranean. 
Bottom line, Bora Bora is a stunning, clean and peaceful destination that we can highly recommend.
To get to French Polynesia is not an easy task – especially Bora Bora.  From Los Angeles the flight time into Tahiti is 8.5 hours and then another 50 minute flight onto the island.
From Australia the flight is also lengthy – 9.5 hours just into Tahiti.
Once on the island of Bora Bora, Then it is a boat ride to get to the atoll where most of the luxury resorts are including the Intercontinental one.
The high season in French Polynesia is May to October.  And yes, that is a wonderful time to go.  However, that is the most expensive time as everyone else is there.  In addition, during high season it is super hard to get accommodations on points or free nights through credit card sign ups.  
Therefore the best time to go to Bora Bora is during the shoulder season – either April or November.  The weather is still great, but there isn't as much competition for your free reward nights.
Yes, it is hard to think of such luxury as the Intercontinental Bora Bora Resort on a budget.  Yet that is how we did it!  The cost of the over the water bungalows was approximately $2,750 per night!  Yup, per night!
However, we had numerous IHG credit cards at an annual cost of $49 which offered free night stays in any IHG (Intercontinental is part of that).  We cobbled those together for a week's stay.
Although those cards are no longer available, there are numerous other hotel credit cards that offer free nights stays and points.  So something to think about for future vacations or luxury getaways!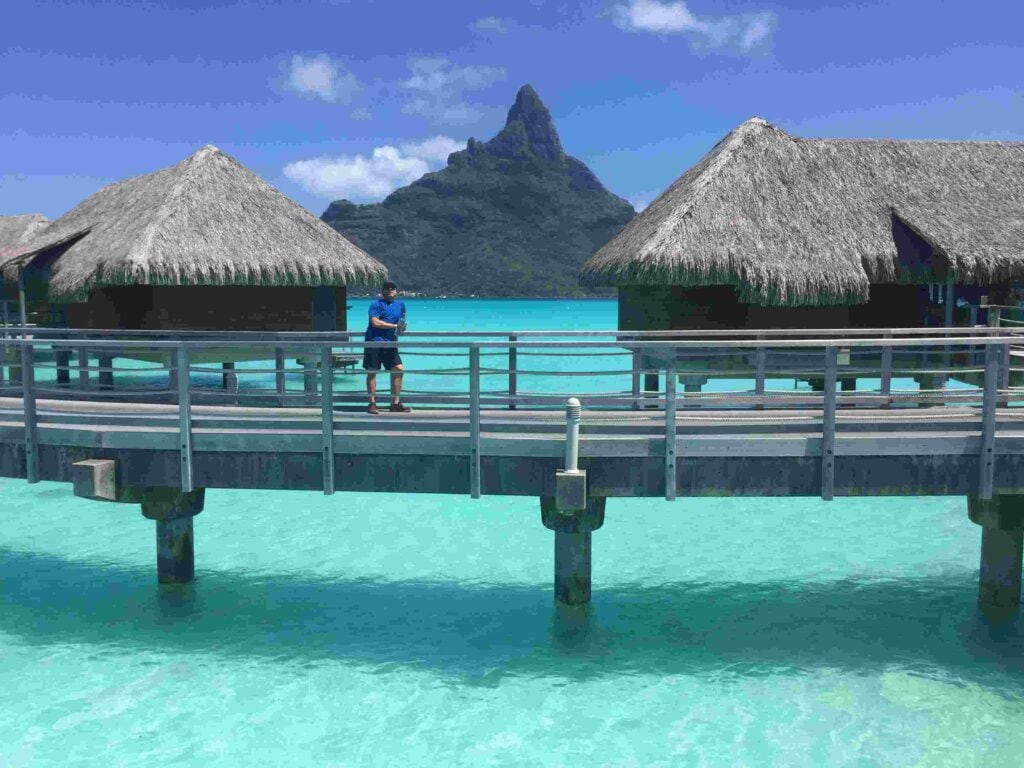 One of the things that is awesome about this resort is that every accommodation is an over the water bungalow – and there are 84 of them. The choices one needs to make are:
What view do you want: Lagoon and Mount Otemanu or the beach?
How much space do you need? A king room, a one bedroom or a two bedroom?
Pool or no pool?
The living room in each of the bungalows has a glass-bottomed coffee table that showcases the lagoon and coral fish below.  We would spend hours watching our colorful visitors swimming on by us.
At the resort, there are 3 restaurants with 2 bars.  In addition the hotel is opening an organic garden on the atoll.  There will be an aromatic herb garden as well as one for fruits and vegetables.  One does not go hungry here!  
However, being vegan it is difficult for me to review the cuisine fully.  The breakfast buffet (which was included in our stay) had a lot of fresh options.  For the rest of our food, we took the little free ferry across to the mainland (just a 10 minute ride) to eat there.  There were enough fruit and vegetable options for me.  And Rob enjoyed the fresh baguettes with cheeses and chicken.  
French Polynesia is part of France after all.  And most of the food here is heavily influenced by French cuisine.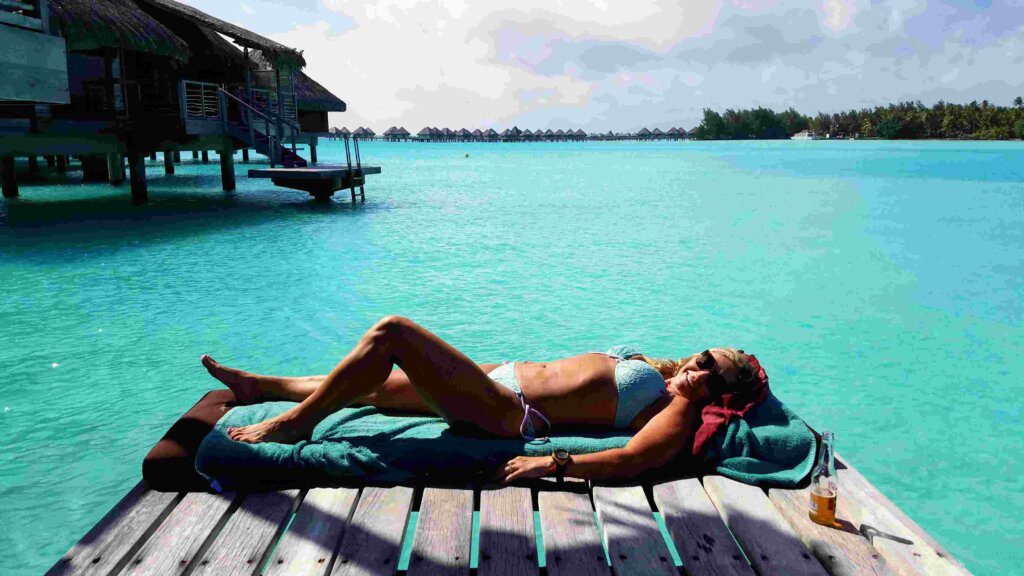 One of our favorite parts of the Intercontinental Bora Bora Resort is the access to the Lagoonarium.  This is a protected habitat and coral nursery that is home to a thrilling array of sea creatures.
Marine biologists supervise the Lagoonarium and coral nursery. And guests may visit to learn about tropical marine life conservation efforts. This environment was specially designed to help coral grow by circulating cold saltwater drawn from deep ocean levels.
These nutrient-rich conditions foster coral regeneration and help encourage the diverse and dazzling species of fish to feed and shelter among the healthy coral. The lagoonarium is also home to an overwater, glass-bottomed wedding chapel, with awe-inspiring views of Mount Otemanu.
The Intercontinental Bora Bora Resort Thalasso Spa was a real treat! It isn't everyday to find a $2K -$3K/night over the water bungalow for a mere $49!
This was our second trip to the island and our third to French Polynesia overall.  The nature in this area, the warm and calm, see your toes water is what keeps on bringing us back!
Have you been to French Polynesia and any of it's gorgeous islands? Are you planning to go?  We would love to hear from you.
Please follow and like us: