Every time I visit this magical coast I see something new, feel a new emotion or find an even more memorable spot to swoon over.  We have frequented these enchanting parts numerous times.  Each time I fall in love deeper and harder with the gems that we discover .  At this point I think that we have finally nailed down the best places to see and experience on the Amalfi Coast.  We want to share them all with you!
Salerno
Salerno is a bustling port town with a railroad station connecting it to Naples, Rome, Milan and the like.  The train does not go through the rest of the Amalfi Coast so for many this is the last stop before embarking on the crazy road which links Salerno to the rest of this magical land.
Salerno has a fantastic old city filled with history, old churches, museums and lovely shops, cafes and restaurants.  It is certainly bigger (and at times grittier) than the rest of the coast, but still worth a visit from my perspective.
Cetara
Cetara is a little gem of a fishing town which rises above the sea but still has a lovely beach to retreat to.
Erchie
Erchie is a picturesque hamlet of the town of Maiori.  Another cute town with much history and a nice sandy beach stretching below the winding and jaw dropping road leading all the way to Positano.
Ravello
My favorite place in all of the Amalfi Coast is by far Ravello.  We stayed in a B&B which is owned by the widow of a Ravello poet.  Our deck stretched out high above the sea.  It had spectacular views of the valley covered with grape vines perched peacefully over the sparkling Mediterranean Sea.  We took the little cobblestone path behind our B&B and walked up the many ancient stairs to arrive in the center of Ravello.
Ravello unlike some of the other larger towns on this coast is quite peaceful.  It has many gardens and parks and by far fewer tourists than it's "Amalfi" cousins.  An absolute must see is the Villa Cimbrone.  The Villa and Gardens date back to the 11th century and offer beautiful grounds with breathtaking views of the Valley and the Sea.
Although each town on this coast makes it's own Limoncello, the best we have tasted (and the cheapest), we bought at The Limoncello Factory at Via Trinity, 37.  You can have a free tasting and watch through the window to see how this tartly sweet liquor is made.
Ravello is from my perspective the best place to see on the Amalfi Coast.
Amalfi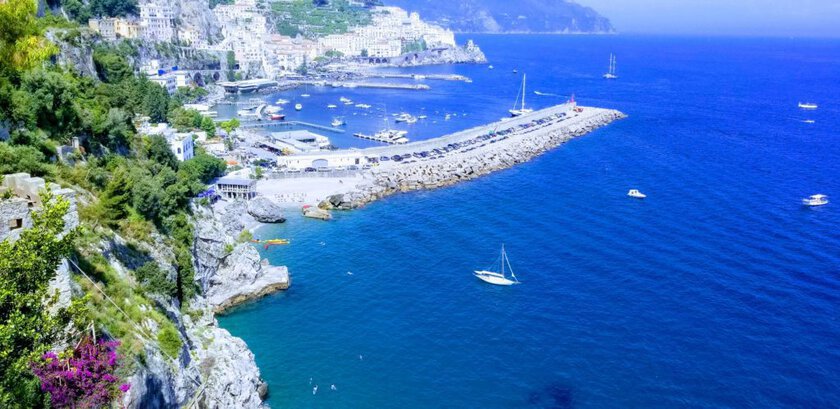 So much has been written about this famous town.  My mother and I visited here almost 30 years ago and Rob, Stephen and I visited almost 25 years ago when it was a much quieter fishing village.  I must say that I loved it then.
Today, it is difficult to get through the crowds of the never ending cruise ship tourists.  Each pushing to get through the streets and attractions before they need to tender back to ship.  Don't get me wrong, it is still a beautiful place.  But I prefer the quieter towns above the sea like Ravello, Praiano and the like.
Praiano
We stayed in Praiano by mistake.  It is a mistake that I am so glad that we made.  Whenever we booked a hotel on this coast, we looked for a hotel with parking.  Hotels with parking are extremely expensive and rare.  We discovered that each town has it's own public parking lot.  These places charge a fraction of the delta between hotels with parking and without.  We could have stayed in a lovely historic part of Positano or Amalfi for $50/night had we not been looking for a place with parking.
That being said, Praiano was magical and we are so glad that we stayed in this hilltop medieval town with views of Positano and the shimmering Sea below us.
Positano
If it wasn't for the crowds, Positano would be one of the best places to see on the Amalfi Coast.  But alas the crowds are almost as thick as in Amalfi.
This city is still magical during the day and  night.  In the day the shops and cafes bustle with energy and the bougainvillea covered paths and cobblestone streets offer great respite from the glaring sun.  At night, the sea shimmers and the stars twinkle.  The air is fragrant with lemons and oranges and one cannot escape the mesmerizing scent and feel of this town.
Summary
To me Ravello is one of the best places to see on the Amalfi Coast.  It is a historic town with never ending vistas.  A place where you can fully unwind while visiting the other lovely sights of the hectic coast.  As a runner up Praiano is very central and makes for a great landing pad.
Have you visited the Amalfi Coast?  What were your impressions?  Did we miss anything?
Next up we visit Apulia – here is the link.
Please follow and like us: