Montevideo is the capital of the second smallest country in South America – Uruguay.  It is an eclectic town with progressive views and a mini Buenos Aires feel.  The city is bursting with colors, most notably from it's fantastic street art found all over the city.  
Church and state, in Uruguay, have been separate since 1916.  This was a strategic decision made by the government to increase Uruguay's population through open immigration.  Since then the country has adopted many new laws which are firsts in South America.   These include gay marriage, legalized marijuana and a woman's right to choose when to have children (abortion).   This kind of liberal thinking lends itself to much reflective self expression culminating in colorful and evocative street art.
Map of Montevideo Street Art
Prior to 2014 artists could paint anything and anywhere on the streets of Montevideo.  Since that time new rules have been put in place limiting where graffiti can be painted as well as how often it can be replaced.  Let us take you through some of the best street art neighborhoods of Montevideo.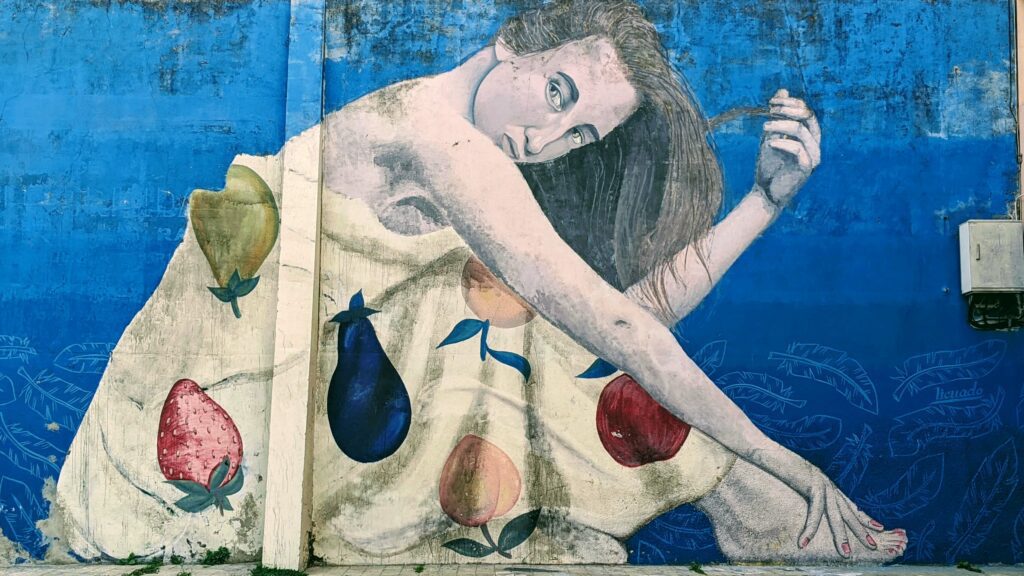 Ciudad Vieja is the oldest part of Montevideo.  Until 1829 it was surrounded by a wall that protected it from possible invasions.  The only part of the wall that still stands is a gateway which has become the symbol of the old city.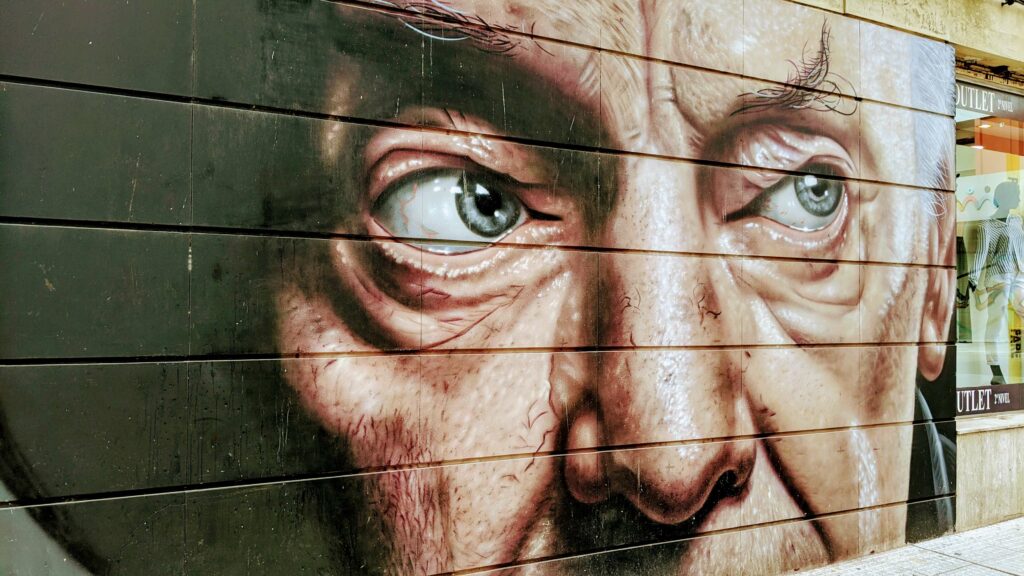 Until recently this part of the capital was quite run down.  Dilapidated  buildings got spruced up and turned into trendy restaurants, cafe's and museums.  Street artists came in and painted the lusterless walls giving them life and appeal.  
This Carlos Paez Vilaro piece stands by a corner dedicated to acceptance and inclusion featuring the plight of LGBTQ residents.   
Although considered part of Ciudad Vieja this area of the city looked very different from the upscale and well coiffed old city.  This norther part is quite modest with run down buildings where people seem to exist.  Yet the street art is some of the best in Montevideo and must be explored.
Unlike most of the other neighborhoods of Montevideo, this area has a considerable concentration of children playing on the streets, mostly unattended.  Walking through the streets we were repeatedly startled by loud sounds.  At first we thought they were gunshots.  Alas no, these were firecrackers used by the children as "toys".  Sadly there was also a pit bull chained to a motorcycle that looked like a permanent home for the poor guy.  It was clear that his job was to protect the area.
Barrio Sur came into existence around 1835.  This was about the same time that slavery ended in Uruguay.  The neighborhood became predominantly inhabited by Afro-Uruguayans, the first generation of liberated slaves.  They brought with them customs and rituals from their mother lands.  These rituals gave birth to the Candombe.  Simply put, Candombe is a musical self expression through drumming and dance which is now considered an important aspect of Uruguya's culture.
To this day, Barrio Sur plays Candombe music on the weekends and is  central to the Carnival activities each February.
This posh neighborhood is named after the large park which is the centerpiece of outdoor activity here.  There is a small lake with pedal boats as well as paths for walking and running.  I was so glad to see so many well taken care of dogs in this park and all over the city.   It is such a refreshing sight.  
The southern side of the park faces one of the city's  popular beaches – Playa Ramírez.  This is where we found some of the most fun street art of Montevideo.
Cordon is a bustling neighborhood with many shops, restaurants and squares.  The best time to visit it is on a Sunday before 2 p.m. as it hosts the biggest market in the country – Feria de Tristán Narvaja.  The market has everything from fresh produce to food stalls to anything and everything you would ever want.  Seriously it is colorful, festive and huge.  Definitely worth a visit.  While there, check out it's varied street art.  
One of my favorite pieces is this sheep.  The country actually has 3 times as many cows as they do people.  Sheep also outnumber the population of Uruguay.
Uruguay was the first country in the world to provide a laptop to all primary school age children and teachers.  Internet is also available throughout all schools.  In addition, the country has a very high literacy rate, not just for South America, but the entire world. A 2018 estimate by UNESCO shows literacy at 98.8%.
Pocitos is one of the oldest and fanciest neighborhoods in the city.  Tall luxury condominiums coexist with renovated stately grand homes.  The streets are wide and lined with beautiful shady trees.  There are lovely cafes and restaurants as well as some of the most sought after beaches.  Lively street art decorates many of the walls of this Montevideo distinguished neighborhood.
Just north of Parque Rodo is the neighborhood of Palermo.  Mostly a residential area, it leads out to the water and the boardwalk of Rambla Republica Argentina.  This avenue hugs the coastline of Montevideo making it the longest continuous sidewalk in the world.  Palermo as well as the Rambla hosts some of the most spectacular street art in Montevideo.
Montevideo street art is truly special.  It reminded me of the colors and artistry of the art we saw in Plovdiv.  Unabashed, honest and brilliant.  
Have you been to Montevideo?  What was your impression?  Is there a particular piece that truly spoke to you?  We would love to hear your thoughts and feedback.  
Please follow and like us: