We arrived in Barbados a few months ago.  Yet it feels like we have been here a lifetime.  Because life on this compact island nation is slow, fluid and highly predictable.  Therefore we want to share with you what nomad living in Barbados is like.  Ultimately we want to divulge everything that we learned : The good and the bad so that you can decide if living in Barbados is worth a try.
Barbados has 2 seasons.  One is the drier one from December to June.  The other one is from July to November and is wetter.  Temperatures remain quite constant here with an average of around 88 F/30 C year round.
The best time to visit Barbados really depends on the type of living that you enjoy.   If you appreciate less people and can put up with some rain, then visit between July and November. Though these months fall within the Caribbean's hurricane season, hurricanes rarely hit the island, and you could attend one of the lively Crop Over Festivals during this time.
December through June is the most popular time to be in Barbados.  It is typically the driest and hottest time to be here.  February and March usually have zero rain.  However, I must say that we have been here since November and January has ended up being the wettest month so far.  Climate change has created so much chaos.  Nevertheless, for us, being in a warm place with some rain is still better than being in a cold place with rain or snow.
Location, Location, Location
Barbados is mostly about the beach.  Therefore the closer that you are to a good one, the less time you are going to need to walk on busy streets to get there.  
The west coast is the most populated and the one that has the calmest sandy beaches that have proximity to supplies and amenities.  The east coast is way too rough and swimming is not recommended.  Therefore, our favorite spots are the following (which are listed from Northwest going south):
Heywoods Beach
Gibbes Beach
Sandy Lane Beach
Pebbles Beach
Worthing Beach
There are many different types of accommodations for every kind of living in Barbados.  With that said, there are a few things to keep in mind:
Hotels are expensive and usually do not have a kitchen.  Although we have circumvented the kitchen issue here.
Airbnb searches with a pool and air-conditioning will have the fewest options and will be the most expensive.  Therefore, looking for places on higher ground will most likely provide a breeze and a potential view with a lower price tag.  And with the beach 5-10 minutes away, do you really need a pool?
We saw small modest houses on the beach for $40 USD/night.  Yes, they did look quite rustic, but they were directly on the beach!
The longer you stay, the cheaper it will be.  For example, our apartment 850 meters up from Gibbes Beach was originally $150 USD/night.  Yet, after a 2 week stay, we were able to negotiate it down to $110/night for future 2 week increments.  In summary, we recommend to check a place out and if you like it, negotiate away.  
Transportation is a huge consideration when planning on living in Barbados.  Car rentals are very expensive.  For example, the cheapest independent car rental that we could find was $45 USD/day.  Traditional car rental places through Kayak can be double in price (even if you rent for weeks or even months).
Taxis add up in cost and are not a sustainable option.  For instance when we moved from the Hilton, south of Bridgetown to our Gibbes Beach apartment the price was $50 USD.  However, as a supplement (especially when carrying a load of groceries in the rain), they are a welcome sight.  Always negotiate the price prior to getting in.  And make sure that you have cash.
Buses are a great option but have limited routes.  If you are only going up and down the west coast of the island, then the $1.75 USD fare is a great option.  Be prepared to be jostled and tossed as the bus careens at 80 miles per hour down a one lane road, dodging pedestrians and pot holes.
We love to walk wherever we go.  As an example we enjoyed our walk around one of the smallest island countries in the world.  However, walking in Barbados can be unpleasant and quite dangerous.  There are few sidewalks and the only real road is the main one.  It is congested with cars and buses whipping by you at neck breaking speeds.  As an aside, I actually observed a head on collision 10 meters away from me.  Had I been any closer, I may not be sharing this story.   In other words, if you enjoy long distance waking and/or running like we do, living in Barbados may not be for you.
If you are visiting Barbados for a week or two, then food is not really a big deal here.  There are quite a few restaurants to choose from.  However, if you are planning on living in Barbados or want to stay for awhile, food does become an issue.  For me being vegan adds an extra layer of complexity and lets remember that we are here during COVID.  Therefore, for us going to restaurants is a non starter.  Funny story, the cooks at the Hilton were convinced that being vegan included eating fish.  As a consequence, my quarantine breakfast delivery consisted of fish on most days.
If you do like a good fish fry, like Rob, then on a Friday evening head over to Oistins Fish Fry.  Their food is legendary on the island.  Be aware that the food is consumed  at communal picnic tables.  Not something that is recommended during COVID.
If you are looking for something fancy, then hands down The Tides in Holetown is the restaurant that everyone raves about.
Earlier we discussed the importance of location on the island.  Proximity to groceries is a very important consideration when choosing accommodations (unless you have a car).   There are a few Massy Supermarkets here.  These are modern stores with a familiar feel to their counterparts in western countries. However, fruit and vegetable choices are quite limited.  And finding organic vegetables is very difficult if not impossible.  The cost of most groceries and other staples are double if not more of what we are used to in Canada and the USA.
There are a couple of farmer's markets on the island with the biggest one being Brightons Farmers Market.  It is only open on Saturdays from 6:30 am – 10:00 am.  Hastings Farmers Market is listed to be open on Wednesdays, Saturdays and Sundays.  However, I only saw a few stalls and mostly on Saturdays.   Most likely this is due to COVID.
In addition, there are small stalls selling limited fruits and vegetables or fish in a few places on the island.  Interestingly, the fruit and vegetables are quite expensive, yet the fish is not.  For example, a small conventionally grown head of cabbage is about $5 USD but a pound of freshly caught swordfish is also $5 USD.
Barbados is all about the silky white sandy beaches.  The turquoise, crystal clear water is warm and inviting.  Subsequently, this is where we spend the majority of our time.  See our favorite beaches above.  Because there are so many beaches, they are mostly uncrowded.  However, Sundays are the busiest days, so plan accordingly.  
Yes, I said monkeys!  The island is filled with them.  The green monkey, also known as the sabaeus or the callithrix, is an Old World monkey with golden-green fur and pale hands and feet. The tip of their tail is golden yellow as are the backs of their thighs and cheek whiskers.  
Our apartment has a number of tall trees on the side of our balcony.  In the morning we quietly tip toe out with our coffee to watch these magnificent creatures.  Due to COVID, we are the first people to inhabit our small apartment building since March.  Subsequently, we are the first people that some of the younger monkeys have ever seen. 
One day I was doing yoga on the veranda and noticed Rob motioning to me through the window.  Looking up, I realized that a large group of monkeys had been watching me do yoga.  How funny and cute is that?!
Rob and I were PADI certified years ago.  However we mostly snorkel.  Ultimately we felt too rusty to go on a huge dive right away and wanted to brush up our skills with an accredited instructor.  Roger's Scuba Shack was wonderful.  We did a mini refresher course and then were taken out 5 minutes off shore to dive 5 different wrecks.   The coral is very tired here, as it is in most parts of the world.  However, the colorful fish and sunk ships were interesting to see.   
Interesting fact, when ships used to come into Barbados from Europe hundreds of years ago, they had to self quarantine on their ships for 14 days before coming ashore.  While in the bay, the sailors would drink rum and toss their empty bottles overboard.  Consequently, one of our fellow divers found one of the discarded bottles.
Barbados is home to the oldest rum distillery in the world.  Mount Gay was founded in 1703.  Unlike most of the Caribbean, which is comprised of volcanic islands, Barbados was formed by layers of coral reefs pushed up by movement of plates.  It is made up of a deep limestone bedrock, a perfect natural filter for rainwater, recaptured in underground aquifers.  This rainwater together with the island's sugar cane and tropical climate creates the sought after rum.  You can also visit the distillery for a tour.  
Citizens and residents of Barbados have free government run healthcare – much like Canada and Britain.  However, many opt into purchasing insurance so that they can enjoy some of the more expedient private clinics.  
Tap water on the island is considered safe to drink.  However it is hard water and does have a slimy feel to it and a specific taste.  We used our portable water filter at the hotel.  Within the first week our brand new filter which was supposed to last up to 4 months was inoperable.  Thankfully, our apartment has a water filter which makes the water much more palatable.  Therefore inquiring about a water filtration system when choosing accommodations would be recommended.  
Barbados is one of the safest places in the Caribbean.  However, there are some areas in Bridgetown as well as in the far north that one must avoid by day but mostly by night.  
Rob has been hassled quite a bit by people trying to sell him drugs.  Although they are against the law here, there are loose borders with other islands and subsequently the drugs do get through.
I was running on the beach south of the Hilton and got hassled quite a bit by local males.  But in no way did I feel in danger;  just annoyed.   There are some deserted beaches north of  Bridgetown that I did feel an eerie sense of isolation and therefore would not recommend visiting alone.  Paradise beach is definitely one of them.
We are digital nomads.  Wifi is one of the most important things for us.  We can live without quite a bit of luxury.  Yet WiFi is not one of those things.  It is a must!  Thankfully, Barbados is very well connected.  Data works well throughout the island and WiFi in both of our accommodations has been decent.  However, given how important this is to us, we always contact the host in advance and ask them to do a speed test.  This way, if there are any issues they fix them immediately.  
Dogs!  Oh my goodness, do we ever miss friendly dogs.  Unfortunately, Barbados has a very dark past.  It was the first slave island in the Caribbean.  Subsequently dogs were used against the slaves.  Understandably even today most people do not own dogs as pets.  They are mostly used for security, serving their sentence behind a fence on a heavy chain.  
In addition, there is a prevalence of illegal dog fighting rings on the island.  Thankfully, there are a number of wonderful animal rescue organizations here that work to educate citizens and save these lovely creatures from harm.
Places to Walk, Run and Bike
Without proper roads and sidewalks it is impossible to have a pleasant walk, run or bike ride.  Trucks, buses and cars zoom past us at crazy speeds.  The air fills with exhaust.  Consequently the journey becomes quite unpleasant, yet there are no options.  Even smaller roads have the same issue on the island.  However, the beach is a lovely respite for relaxation and exercise.  
The island does have it's own coffee roasting company.  However, it only has one location and unless you have a vehicle is not very convenient to visit.   There are a few coffee shops in Bridgetown and Holetown.  Yet again, without transport become out of reach.  
The coffee sold at the supermarkets is not the best.  In conclusion, if you plan on living in Barbados and love good coffee, I suggest bringing some with you.  Alas, we ran out a month ago.  
I found some fresh green beans at a stall in Speightstown a few days ago.  I was very excited to eat them.  Little did I know how much Rob missed fresh greens as well.  He squealed in delight eating them.  Yes, we miss our greens!
In Barbados, garbage removal is thankfully a regular occurrence.  However, there is no separation of recyclables and regular land waste.  In addition, organics collection does not occur.  There are private recycling organizations that will take your recyclables.  However there are few of them on the island and you need to drive your goods over to them (at times defeating the purpose).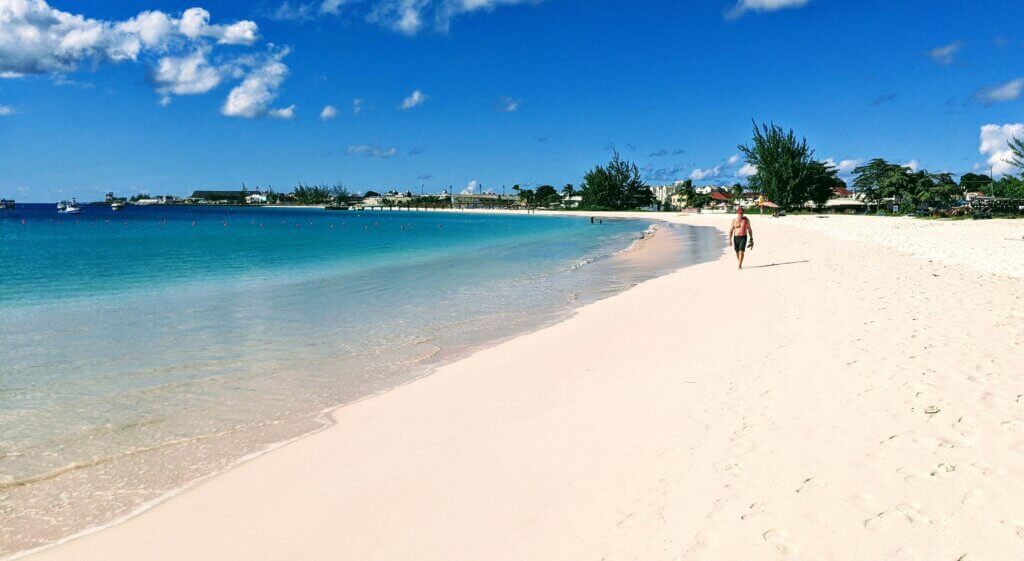 We are so grateful for this opportunity to be living in Barbados.  We feel safe and happy here.  Yes, there are some things that we miss, however this warm weather and idyllic beach setting are hard to beat.  
Have you been to Barbados?  What did we miss?  We would love to hear from you.  If you plan on coming here, please reach out if you have any questions.
Please follow and like us: