Last updated on January 4th, 2023 at 09:32 am
Geographically, Calabria is the most southern part of the Italian boot.  This southern part of Italy is such a delight.  Because it is steeped with history, ancient art, architecture, incredible vistas, sandy beaches and amazing food to dazzle all senses.
Find out which areas of Calabria we enjoyed the most!
Getting to Calabria
Taking the short car ferry from Sicily across the Strait of Messina to Calabria was a lot easier than finding the location of the ferry (Googlemaps did not have the correct location – the location on the link is correct).
We traveled clockwise around Calabria starting in Scilla, passing through the Amalfi Coast (Campania) across to Apulia and then back to Calabria.
Scilla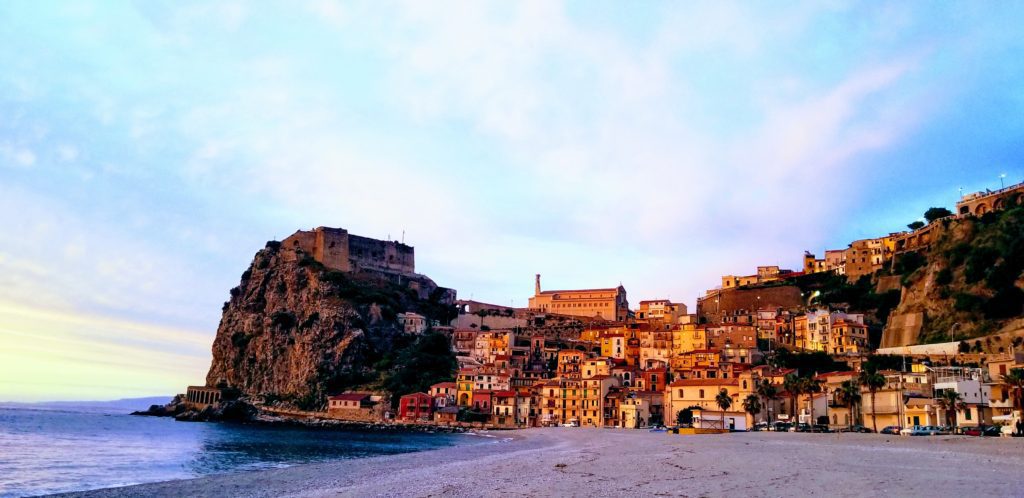 We started our Calabrian adventure on the west coast of the toe of the Italian boot in an ancient town called Scilla (pronounced Sheela).
Scilla is a fishing village with a beautiful sandy beach, a castle and wonderful views of the Aeolian Islands.  Many restaurants and cute boutiques dot the historic fishing village of Scilla which is called Chianalea.
Monte Sant'Elia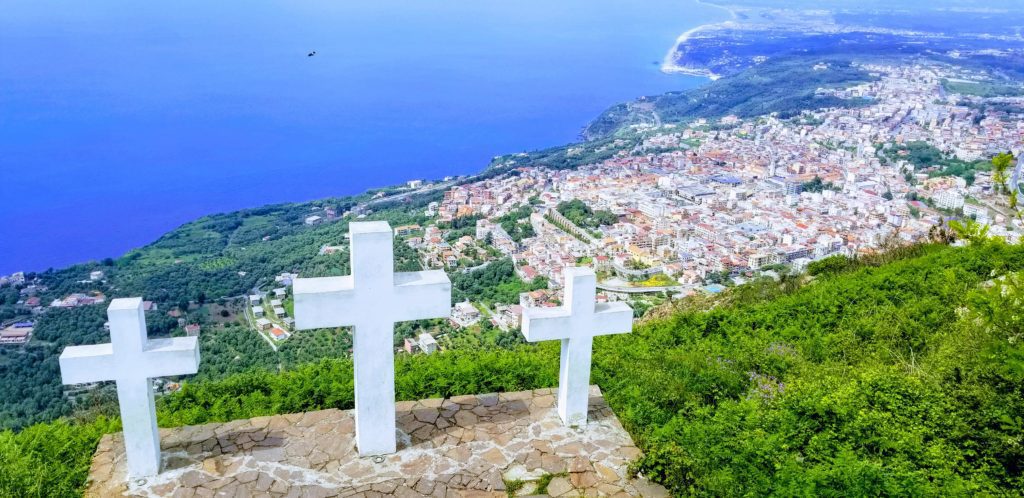 Monte Sant'Elia is a must stop between Scilla and Palmi and offers 180 degree views of the coastline.  There are many steps up and down the cliff which offer different angels of stunning vistas.
This is a great place to bring a lunch or purchase it from the small restaurant/pizzeria at the top.  We liked it so much that we did a hike from Palmi to this monument (see Palmi below).
Palmi
This small town perched on a terrace sloping down to the sea is known for it's sandy beaches and mesmerizing sunsets.  It is also a favorite destination for divers and has outfitters to assist with equipment and boat excursions.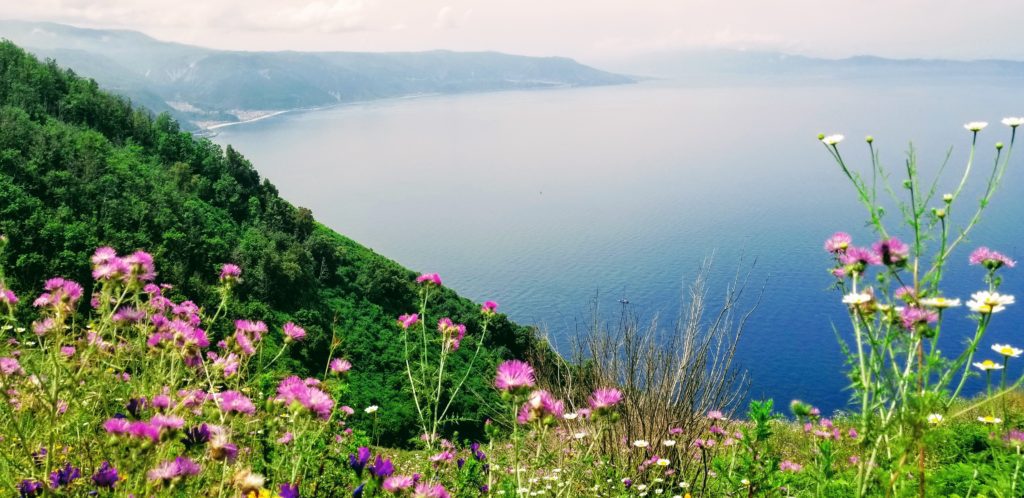 We did a hike from Palmi to Monte Sant'Elia and back which was a lovely way to spend a few hours.
There are no trail markers and at times the trail is not very distinct so a good print out of this hiking map  and some map reading skills are highly recommended as well as a lot of water.  There is also a mountain biking option.
Capo Vaticano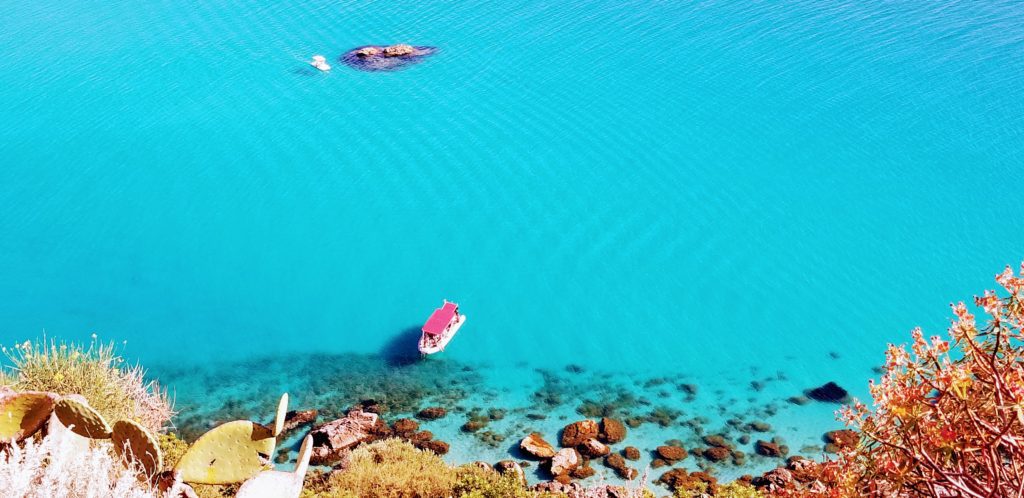 Arriving at this cape, our jaws dropped as we looked out over the transparent turquoise sea.  Capo Vaticano is perched on top of a cliff and has a few small boutique hotels, B&Bs and restaurants.
The main attraction are the views and the large bathing area below which is surrounded by large grey white granite rocks which have fascinated geologists around the world.  The place is considered sacred by many, especially the Mantineo rock located over the cape.
Tropea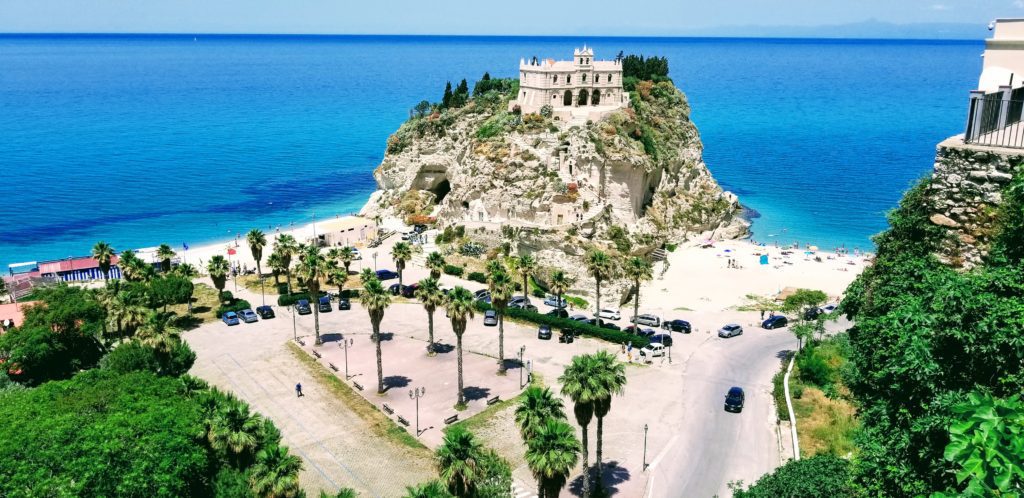 Secretly, Tropea was the destination that I was really looking forward to seeing and it did not disappoint.
The city is  perched on a cliff overlooking the many sandy beaches below as well as the spectacular Santa Maria dell'Isola (pictured above) which is located on the top of a hill looking over the sea. The monastery is quite large and is surrounded by beautiful gardens.
Corso Vittorio Emmanuale is a lovely cobblestone street which is a favorite for both locals and visitors alike.  The long street is dotted with cafe's, restaurants and cute boutiques and ends with dramatic views of the sea.  It is definitely worth a visit during the day and night.
At night the Santa Maria dell'Isola is illuminated providing a dazzling view.
Pizzo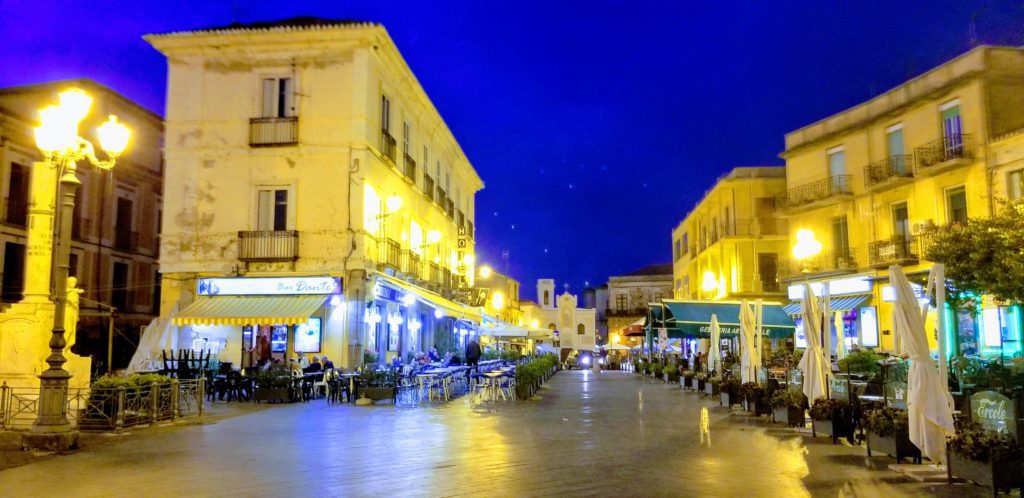 Pizzo is so much more than just a small fishing town.  It is perched on a cliff overlooking the sea and it's many beaches.  There is so much to see and do in Pizzo!
Outdoor modern art is intermingled with beautiful churches, vistas and lovely cobblestone streets and piazzas.  I fell in love with Pizzo and wanted to stay much longer.
The Chiesetta di Piedigrotta is just outside Pizzo; a fifteen-minute walk along the road leading out of town along the coast to the north-east. The church is down a flight of steps and dates back to the seventeenth century.
It is a cave dug out of soft rock on a bank facing right out to sea.  And was originally created in gratitude by shipwrecked sailors who'd been saved from a storm.  It is hard to decide whether the chapel is a devoutly kitsch curiosity or a tourist trap.
I vote for tourist trap, but Rob loved it and thought it was the highlight of our stay.  Many tourists do as well.  As this church is one of the most visited tourist destinations in Calabria!
Scalea

Scalea is found on a huge stretch of long sandy beaches with shimmering water as far as the eye can see.  Just south of Scalea are the beach towns of Belvedere Marittimo and Diamente and just north is the lovely Praia a Mare.
I wish we had a month in this area – between the beaches and the history in Scalea there is plenty to do and see.
Scalea has ancient roots dating back to the Greek colony of Enotria.  When the Romans came they built seaside villas and grand residences to escape the city, but the coast was abandoned in the Byzantine and Norman eras.
A typical Medieval town was later erected with houses built on top of each other, leading higher and further up the hill connected by steps and alleys, encircled by a defensive wall with grand gates that could be closed against invaders.
Much of the medieval town is in a state of disrepair but it still retains it's charm with ancient cobblestone streets circling higher and higher towards the ancient castle.
The views from above are quite stunning both in the day and at night.  No wonder real estate is booming and many southern Europeans are snapping up pieces of history and the beach front.
Wrap Up
The western part of Calabria was an interesting blend of history, architecture, southern Italian culture, good food and beautiful beaches.  We really enjoyed our travels here.
From Western Calabria we continued clockwise to the Amalfi Coast, Apulia and then back to Eastern and Southern Calabria.
Have you been to the south of Italy?  What did you enjoy the most here?  We would love to hear.
Please follow and like us: